Sacramento State named top 10 in nation for transfers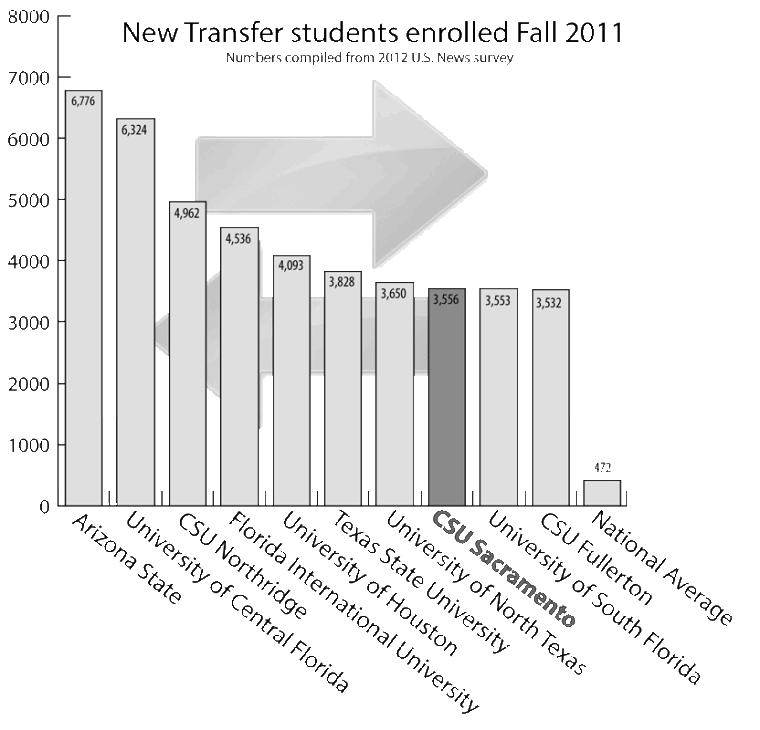 In a nationwide survey by U.S. News and World, an online college ranking magazine, Sacramento State was ranked eighth among 1,200 campuses for percentage of transfer students accepted.
Sac State had an acceptance rate of 86.8 percent, or 3,556 students, during the fall 2011 semester, according to the report.
Ed Mills, associate Vice President for Student Affairs Enrollment, said there are a number of reasons for the school's ranking.
"We serve a very large regional transfer population," Mills said.
The closest district is the Los Rios Community College District, which is among the state's largest community college districts. Schools within this district include Sacramento City College, American River College, Cosumnes River College, and Folsom Lake College.
Aside from that, many students transfer from schools such as Sierra College, Solano Community College, the San Joaquin Delta College and a number of others surrounding the Sacramento area.  
Sac State journalism major, Kibby Stahl, 21, transferred from American River College in the fall.
"I definitely felt a change of pace and a better crowd at Sac State," said Stahl, who had originally moved to Sacramento to be closer to family, but began to appreciate the surrounding resources like the state's capitol.  
Along with Sac State's connection to nearby districts, Mills said that the university works hard to be transfer-friendly.
University admissions counselors connect with community colleges by meeting with students on a regular basis and post-transfer in an effort to help students succeed.
"We want to make sure that all our prospective transfer students know what they need to do to qualify for admission," Mills said. "That's one of the reasons why we have a high acceptance rate."
Gabrielle Hoskins, 23-year-old biology major, said she transferred from UC Santa Cruz in 2009 because she was unhappy with the class sizes and appreciated the relative intimacy Sac State had to offer.
"I came to (Sac State) because they were one of the few schools I could find still accepting lower-division transfers," Hoskins said.
She is currently an orientation leader on campus and says because of her job, she comes in contact with many other transfer students.
"I think that being a transfer myself helped me relate to (other transfers)," Hoskins said. "I feel like I've learned some things that will help other transfer students succeed here."
Mills said transfer students who have taken prerequisites elsewhere also have an easier time getting into their major courses at Sac State.
"We are a very strong transfer University with an active community of students, faculty and staff who focus a great deal of time and attention on helping transfer students succeed," Mills said.