Sac State alumnus creates and sells 1,000 bowls for charity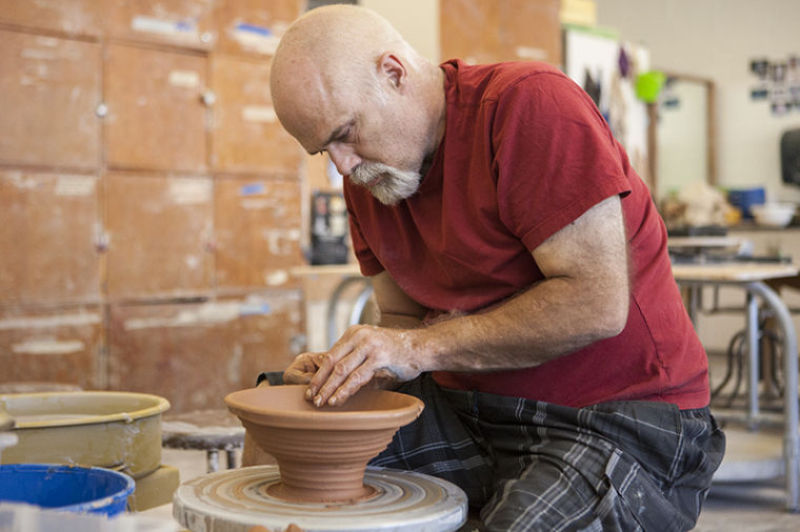 With his love for clay, Sacramento State fine arts alumnus and local artist Chris Thompson has almost completed with his biggest art piece to date – 1,000 Bowls to Feed the Hungry.
Thompson, 52, said the project has amassed 1,050 bowls and grossed about $12,000 that will be donated to Loaves and Fishes, Senior Gleaners and Meals on Wheels, which are all local charities that feed the needy.
Thompson started the project started when he threw, or shaped, the first bowl in November 2011 and took the last bowl out of the kiln in June, completing the grand collaboration among him and 600 other artists.
"It's been almost a 'we' project and not a 'me' project," Thompson said. "It's definitely been the community coming together and making the art piece."
Thompson said he threw a total of 1,250 bowls with each piece representing six and a half hours of his life due to the numerous steps to obtain the final product.
As he went through the process of throwing his bowls, Thompson said it changed his perspective because it added depth and complexity to his understanding of the form.
"I started really looking at all the fine details of a bowl," Thompson said. "How the inside curved matches the outside curve, how the dome of the underneath where the foot is, where the optimal place to sign a bowl is or if I should sign my work at all. It's just a lot of questions that really started coming up at 1,000 bowls. By the time 1,250 bowls were done, it was like 'Alright, time to move on to another form.'"
Thompson said as he took on the project, he hoped to inspire other artists to do the same by using their talents to give back to the community.
"What my hopes were for the project to be a success was make some bowls, sell some bowls and then hopefully inspire other artists to do the same," Thompson said. "If you really wanted to do something similar you can run something concurrent to something (that) puts food in your belly and a roof over your head and it might take a couple of years, but in a couple of years, you'd have a substantial piece that you could donate and it could do good."
Although Thompson has garnered praise for both his art work in ceramics and his 1,000 Bowls to Feed the Hungry project, he said the choice make a career out of working with clay came later in his life.
Thompson worked with clay up until his early adulthood when he started studying business and much to his success, he became the CEO of his own corporation, CJ's Computer Enterprises.
With his success and a failed marriage in his 40s, he grew disillusioned of his life in the business.
"In the business world, it's all about take-take-take on your way to the top and dog-eat-dog and I became good at what I did," Thompson said. "I became a shark among sharks and I kind of got tired of that 'Give me' lifestyle and paradigm."
It was not until he returned to school and took a ceramics class that he realized working with clay was something he wanted to do.
"It's these personal choices that we make to ourselves that matter most in our lives when we try to decide what we want to do with our lives," Thompson said. "Certainly, the sooner we can make those choices, the better, but it's never too late to make those choices. I was brave enough to want to start all over again."
Now that Thompson is becoming known in the Sacramento art community, he has culminated acclaim from many gallery owners for his work with 1,000 Bowls to Feed the Hungry.
Carol Brewer, owner of Blue Moon Gallery, said she admires Thompson not only for the work that he has accomplished, but the genius quality his work has.
"I met him so long ago and it has to almost be seven years ago," said Brewer, who has been a close friend of Thompson for more than six years. "His work then had such beautiful glazes and integrity and it had a lot of character too. His ideas were interesting and he could really do glazing. I think he's the king of glaze and it's not an easy thing to do."
Brewer said the work for 1,000 Bowls to Feed the Hungry became a huge part of Thompson's life, he persisted and kept throwing.
"I think the bowl idea really clicked with me," Brewer said. "I found it to be a difficult task to undertake, but knowing him, he would do it and he wouldn't stop even if it cost him his health. He was determined and persistent and dedicated."
Colleen Adamson, the owner of Adamson Gallery, said it was a magnificent project, which did good for the society, but managed to bring the art community together.
"With 1,000 Bowls to Feed the Hungry, I think it was a huge project and a huge undertaking and he did an amazing job with little help from others," Adamson said. "It was such a great project that it brought so many people in the community together to raise money for a great cause."
Thompson said he is grateful for the community coming together to help collaborate with the project because he can't imagine what it would have been like without the help he received.
"I can't be thankful enough for the reaching out and the 'we' aspect of the art piece," Thompson said. "It wasn't me and me alone. I might have come up with the idea, but without all the support and all the friends and all the gallery owners and all the publicity all the people buying the bowls – none of this could have happened."
At the end of the day his project has benefitted many people in the grand scheme of things.
"I like part of my practice being charity practice," Thompson said. "It feeds my soul and it makes me happy to do good. It's great for my self-esteem as an artist because artists go through periods of self-doubt, but it gives me a sense of 'My art matters.'"
Camille Anglo can be reached at [email protected]