Removal of faculty parking gates may cause abuse by students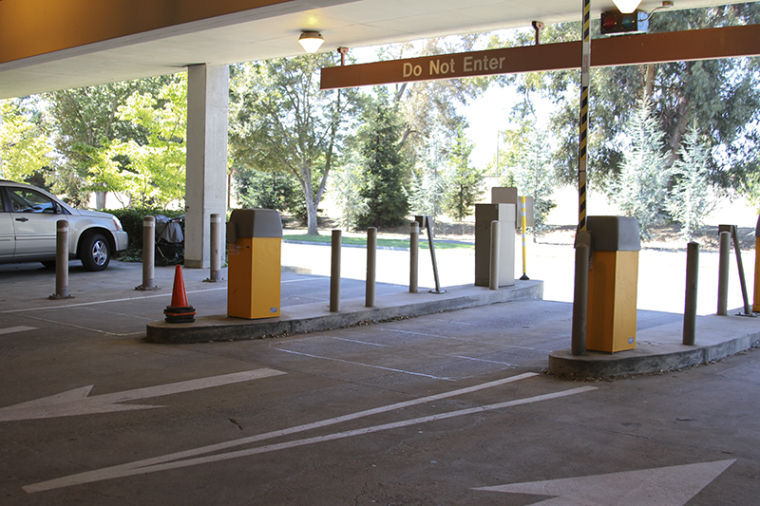 At last month's Faculty Senate meeting, Senator William Dillon raised concerns about the gates of the faculty section in front of Parking Structure I being removed over summer, which could potentially allow students to accidentally enter.
Prior to the removal, the gates required faculty to swipe an identification card at the entrance of the structure allowing them to enter the faculty section whilst eliminating student access.
Senior Director of the University Transportation and Parking Services Tony Lucas said the gates were not removed, but rather intentionally left open.
After a malfunction over the summer caused the gates to break down, the decision was made to leave them open in an attempt to avoid safety hazards and increase traffic flow on the staff section of Parking Structure I.
The identification scanner was another potential hazard Lucas discovered while investigating the issue.
"If approached at the wrong angle it may be hard to reach and can cause an injury, for example if a foot slips off the brake pedal," Lucas said.
Traffic was another concern for Lucas, who said it would run smoother without constant stopping of faculty members at the gates to swipe their identification card.
Erin Rodriguez, a government student who frequently parks in Parking Structure I, said she thinks the open gates would not only make traffic quicker, but in case a student does accidentally enter it would only take a quick maneuver for them to exit.
"(Students) wouldn't have to reverse their cars and that would make things a lot easier in terms of traffic, especially because it is a small structure to begin with," Rodriguez said.
Mark Allen, the Admissions Counselor for the Music Department, parks in Parking Structure I as well. It is currently the closest parking to Capistrano Hall where his office is located.
Allen said he feels a benefit has been taken from the faculty members who consistently park in the garage.  
"Parking is difficult on this campus," Allen said, "The staff works hard, there should be a benefit."
Allen said he and his colleagues were promised certain assets by Sacramento State such as easy access parking.
In response to possible concerns from faculty members, Lucas has augmented additional signs and assigned parking enforcement officers to work on guiding and screening students who enter Parking Structure I.
Parking guidelines will still be enforced, meaning any student who parks in the staff lot is at risk of being ticketed.
Aneece McKinney, a child development major, said she has parked on campus for four years and does not see an issue with opening the gates.
"There are signs that tell students where to park and they could still get ticketed if they park where they are not supposed to, like anywhere else on campus," McKinney said. "I don't think students will steal spots often enough to where it will become an issue."
The concern among faculty members is students who have nowhere else to park can potentially abuse their designated section of the lot.
"I hate to think that we are taking anything away from the students," Allen said, who also said he sympathizes with students but thinks the staff is deserving of the secure parking sections.
Currently, there are 12 student-designated parking lots and nine faculty or staff designated lots on campus. Both student and faculty parking passes allow parking enforcement to determine whether or not a vehicle is parked appropriately.
Since implementing the open gates, Lucas said the UTAPS officers working at the Parking Structure I entrance received several comments on the matter, the majority of which were positive.
"We've had seven people tell us that traffic is a lot faster and one person told us that they feel unsafe with students sharing the section," Lucas said.