Remembering 9/11 with Run to Remember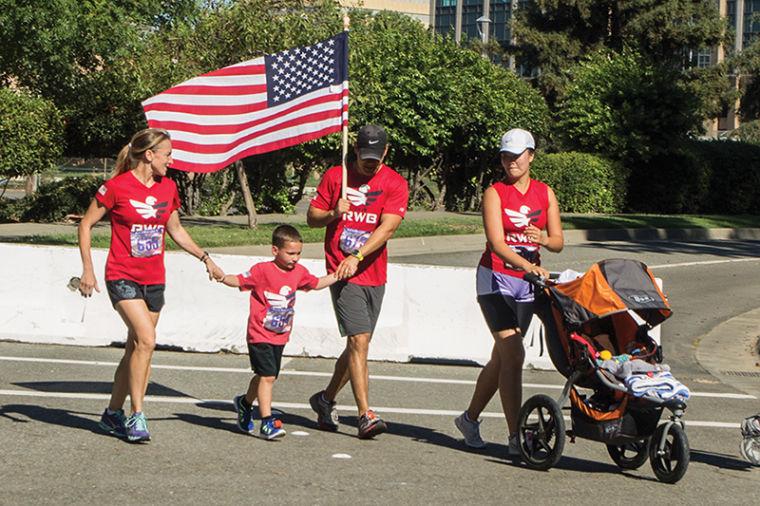 Sacramento law enforcement and the Sacramento Metropolitan Fire District held the 3rd annual Run to Remember, a 5k and 10k run in Downtown Sacramento Sunday to pay tribute to the 3,000 Americans who perished as a result of the terrorist attacks on Sept. 11, 2001.
Held in Capitol Park Mall, the run also honored the Armed Forces currently serving in the various military branches.
Public information officer of Sacramento Metropolitan Fire, Capt. Michelle Eidam, said the run gives people a sense of community while remembering the victims of 9/11.
"The Run to Remember is basically a way to, as a community, get together and have an active tribute to remember all of the people who have lost their lives on Sept. 11, 2001," Eidam said. "It's a way to get out there with kids, with friends, with co-workers to get out there and do something active to honor and remember the people who didn't get home to their families."
Eidam said the run began two years ago on the 10-year anniversary of the attack. Before the run became an annual event, the fire agencies had their own way of paying respects and commemorating.
"We as fire servants, the local fire agencies have done our own remembrance every year since 2001 where we do a stair climb and we climb at 110 stories in our smoke turnouts and helmets as a fire thing that we do," Eidam said. "We wanted to make a way that it would be a part of the community as a whole, that's a way to honor everyone that has lost their lives."
Eidam said the proceeds go to organizations that help families of fallen law enforcement agents and firefighters as well as The Wounded Warrior Project, which provides aid to wounded service members.
"Part of this whole Run to Remember image is tribute honoring military personnel that have lost their lives," Eidam said. "There's so many ways of honoring everybody who's helped be a part of protecting and defending our country and that have been a part of this tragic loss because of their freedom."
Following the run was Tribute in the Park, where runners are handed an American flag to pay their respects to the victims who perished in the attacks. Attended by two honor guards and lined with a white picket fence, the pentagon-shaped memorial featured the names of the 3,000 individuals killed during the attack.
One runner, Birdie Galbraith, said her favorite part of Run to Remember was Tribute in the Park because it is a realization of how the victims' families were affected by the tragedy.
"When you're actually standing there, holding that flag and getting ready to put (it) down next to the name of a person who's no longer here, you think about their family, about that loss and how many people that loss affected," Galbraith said. "It's very sobering. It's a really difficult thing to do, but it's rewarding to be able to have the opportunity to do that."
Assistant Chief of the Sacramento Fire Department Scott Williams said the run was a good way to remember 9/11 because of how it impacted everyone in the nation and was glad to have been a part of the event.
"I've been with the committees for several years and it's one of the ways to give back," Williams said. "There's a lot of people who have lost loved ones or know someone who lost a loved one, so to help set up for the run, it's part of what we do. Giving back to those who paid the price."
Williams, who worked in New York a year prior to 9/11, said the tragedy impacted him because he knew people who died trying to rescue victims.
"I was at was Engine 54, Ladder 54 and they were right down in Manhattan," Williams said. "They lost several people from their crew. A lot of guys that I trained with were lost and and our USAR (Urban Search and Rescue) team, Task Force 7, went back to ground zero."
Williams said 9/11 had a large impact on not only the nation, but the generation as a whole.
"It affected pretty much everyone," Williams said. "It's one of those things where you hear people say 'Where were you when (President John F.) Kennedy got shot?' This is our generation's (version of that)."
Galbraith said although she personally didn't lose anyone on 9/11, the event still affected the entire nation and it's important to remember what happened.
"To some extent, all of us have some part of what happened with us," Galbraith said. "My son decided to join the army and has been deployed twice and is currently deployed. It does in a roundabout way affect all of us. I think it's really important to, like what this run says, remember. You have to remember because if you don't, you get complacent and you forget."
Camille Anglo can be reached at [email protected]