Hornet wide receiver spotlighted with national honor after clutch performance.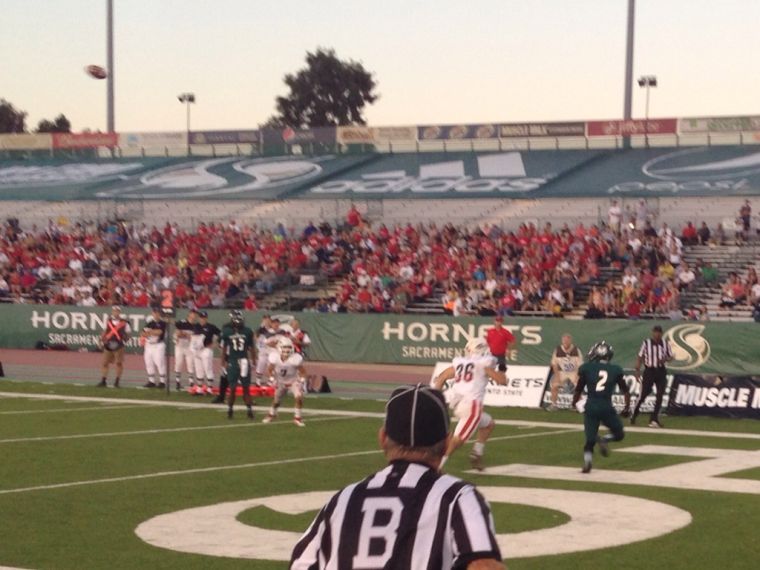 Sacramento State football wide receiver DeAndre Carter was named the Co-FCS Offensive National Player of the Week Monday after a record-breaking performance against Southern Oregon.
 After being held to only 34 yards on four catches in the Hornets' previous two games, the 5-foot-9-inch junior exploded for 12 receptions,122 yards receiving and a school-record five touchdown catches in the team's 2013 home debut.
 "I give glory to God because without him none of this would be possible," Carter said. "This just shows that hard work pays off. [The team] put in a lot of hours. I put in a lot of hours in the weight room in the offseason and it's nice to finally know that my hard work is getting noticed."
 Carter said the chemistry between him and junior quarterback Garrett Safron was key in being in the right place on key plays, but his overall play was inspired by the memory of a lost loved one.
 "I want to attribute this to my little brother Kaylan Carter. He passed away about a month ago due to cardiac arrest," Carter said. "He was with me on Saturday night, carrying me through the game. He helped me out with a lot of the plays I was able to make."
 Carter said he appreciates the honor of being recognized as an individual, but really it is a team accomplishment and he knows the team needs to move past this week and prepare for Southern Utah on Saturday.
 "Being named Co-Offensive Player of the Week is a great accolade," Carter said. "But our goal is to win the Big Sky, get to the playoffs and hopefully win the FCS Championship – the only way we can do that is to keep working hard."
 Head Coach Marshall Sperbeck said the expectation has always been high for Carter given his hustle in practice and past in-game performances.
 "He had some good moments for us even last year," Sperbeck said. "He keeps coming everyday to get better and I think Saturday night was just a result of all the hard work he's put into our program, and [the team] expects for many more of these types of nights to come in the future."
 Sperbeck said Carter's willingness to be coached and tenacious playing style help to place the wide receiver in a position to accomplish such a rare feat.
 "Anthing that [Carter] does (in the games) doesn't surprise me," Sperbeck said. "But, you have to be fortunate to put up five touchdowns because that just doesn't happen. You have to have some things go your way – the way the game was called, the way [Safron] found him – there's a lot of things that factor into that.
 "[Safron] and [Carter] had the magic going that night and they really clicked together and kept it going for the whole game. When a night like that happens, you have to look back and say they were on the same page and it's just one of those memorable nights that you see in sport."