Hornet wide receiver DeAndre Carter dedicates season to brother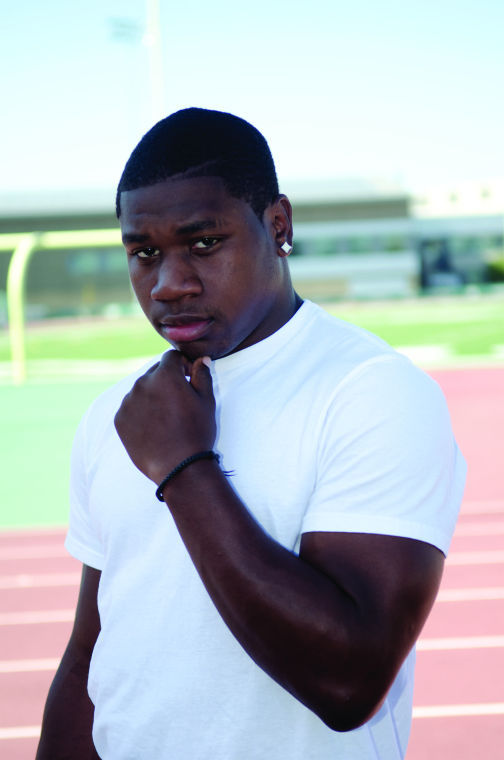 State Hornet Staff
September 25, 2013
On all six touchdown passes Sacramento State wide receiver DeAndre Carter has caught this season, he has finished the same way. He looked up to the sky.
Carter is playing not only for his team and himself, but for Kaylan, his younger brother who died of cardiac arrest.
"I dedicated this season to my brother and I feel like I would let him down if I didn't have a great season," Carter said. 
Kaylan died Aug. 16 after he was taken off life support. He played football for Enochs High School and collapsed during a weightlifting session six weeks prior. Doctors said he suffered from cardiomyopathy – an enlarged heart.
"When it first happened it was tough," Carter said. "He was my best friend and my right-hand man. We did everything growing up and we had a lot of dreams and aspirations that we planned to accomplish together."
During the time of Kaylan's death, Carter was practicing with the football team at training camp and said he struggled to get up and come to practice everyday, but he knew his brother would not want it that way.
"There are good days and bad days, but you just have to continue to pray and know that God doesn't make any mistakes," Carter said. "My brother is still with me and watching over me. I want to make him proud every day."
Whether it was staying up into the wee hours of the night to watch stand up comedy or play video games, Carter will never forget the times with his brother.
"It just saddens me we won't be able to do that anymore," he said.
Football is a long-standing tradition in the Carter family household. DeAndre said he and Kaylan used to wake up early to work out and the two watched each other on their home fields.
"They were pretty much best friends and two peas in a pod," said DeAndre's father Andre Carter. "I've never seen two brothers closer than they were."
DeAndre started his football career playing for his father in Fremont when he was 10 years old. Although he played other sports, he couldn't stop his love for the game. 
"I've always been a football player," Carter said. "It runs in my family."
Carter's father coaches at Washington High School and his grandfather also played at McClymonds High School and Laney College in Oakland. Andre Carter said football makes you think out on the field. 
"It's about the strategy, physicality and camaraderie of your teammates,"  Andre Carter said. "The entire aspect about it makes it exciting."
When DeAndre Carter reached Washington High School in San Jose, he was coached and trained by Eddie Schmidt. 
"He took me to the next level," Carter said. 
In his senior season, Carter helped the Huskies to the second round of the CIF playoffs.
During that time, he was being courted by such schools as Arizona State and Eastern Washington, but Sac State was his only offer and he liked the family values in the football program, said his father, Andre.
"I didn't even know (Sac State) existed," Andre Carter said. "It's ironic though because that's where he ended up."
No matter where Carter plays, he has shown the determination to perform well especially, during his season of emotional turmoil. Thus far he has surpassed his career-high in touchdown receptions, tied the school record with five touchdowns in a single game and was awarded Co-Offensive Football Championship Subdivision Player of the Week by the Sports Network.
"I feel like I have a guardian angel watching over me," Carter said. "I have dreams and aspirations with him by my side."
Ryan can be reached on Twitter at @rskuhn