Hip-hop culture at Sac State embraced by Sac Modern organization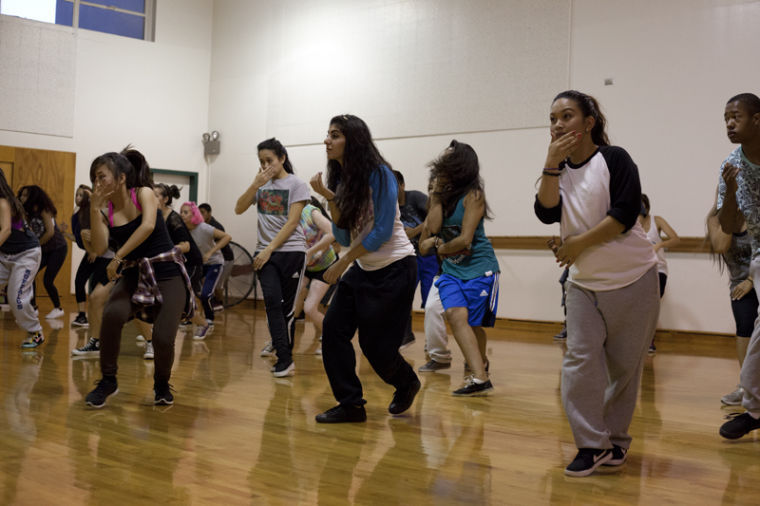 Sac Modern, the only Sacramento State affiliated hip-hop dance group, is breaking out in a city where hip-hop dancing is mostly underground.
After branching off from Samahang Pilipino, the campus' Filipino Club, the group started performing in numerous Filipino culture nights in 2006.
Jordan Riturban, artistic director of Sac Modern, said the group formed from Samahang Pilipino and is a Filipino-dominant dance group, Sac Modern welcomes any student with a passion for dance to join the group.
"We're pushing to get pretty diverse," Riturban said. "Although we branched out with Samahang Pilipino, this year, we've had so much ethnicities and we're pretty split evenly between boys and girls. We don't close off to anybody it's just, we're getting a little bit more culturally diverse as we go."
The dance group has performed at several dance events such as the Breakthrough Competition in Stockton and the World of Dance: Bay Area in San Francisco. Riturban said by doing this, the group hopes to branch out to more competitions.
"Our future goal is to raise the bar this year and showcase that we're a really serious group," Riturban said. "We like to have fun, but we like to show off to Sac State and the community that Sac Modern can really do something."
Students looking to find a dance group should give Sac Modern a chance because being in the group helps build the basics of hip-hop dancing, Riturban said.
"There's a lot of people that don't really know where to go to take classes," Riturban said. "Especially here at Sac State, there really wasn't an official hip-hop dance program before this. This is something pretty new to the area and our goal is to make people aware that there is a hip-hop culture out there and that it's really creative and fun too."
Business senior and Sac Modern's assistant director, Vohn Dumdumaya, 21, said the group stresses on building the foundation of hip-hop dancing, which will make their moves much more fluid.
"We really like to start with our foundations because as I learned as being in Sac Modern, our foundations is what will take us to higher levels," Dumdumaya said. "We really like to look at the basic elements of breaking, locking, popping, all the other basic elements that hip-hop brings to the culture."
Communication studies senior and Sac Modern's senior director Robert Olarte, 24, said the group has two intensives, or dance workshops, to help dancers learn as much as they can before auditioning.
"An intensive is pretty much a collective group of classes spread out amongst a short amount of time. It's just not in a day," Olarte said. "The way I see it, classes are singular, you learn from one teacher and one session. A workshop where you have multiple teachers teaching within the same time period whether its three teachers a day. Today, we're teaching two of six teachers over a two-week period."
Riturban said hosting these intensives not only gives dancers the moves they need to audition but it is a way to prepare for the audition process.
"We have auditions coming up and it's our way of really just push all this training with people who are interested in the group so they're as prepared to audition as much as possible," Riturban said.
The group's directors not only teach these workshops, but members from different dance companies such as Press Play and contestants from the seventh season of MTV's dance competition show "America's Best Dance Crew", the Step Boys come in and help out.
With members from more widely-known groups hosting these intensives, Olarte said they're all friends who are willing to help each other out, but happened to end up in new dance groups.
"The way I got into dance was actually through Samahang Pilipino when we practiced for PCN (Pilipino Culture Night)," Olarte said. "One of them branched off and one (of) my friends branched off into one of the bigger companies in the area and just that networking got us to learn about more people who dance. Sacramento is (a) really tight knit group. Everyone is friends, there's no villains or bad people. Everyone likes to support each other."
Just like joining other organizations, Riturban said being a part of Sac Modern has definitely benefitted not only his social life, but being a group leader.
"Despite the stress to keep the group organized and running, it's a privilege to hear members tell me that they are happy to be involved and still dancing," Riturban said. "Also, to see my fellow members practicing hard for a show and growing as a dancing makes the job worth all that stress."
Dumdumaya said along with dancers learning new moves, the bigger picture is being in a dance group and sharing that camaraderie.
"One thing that I learned especially coming from Samahang Pilipino is that family is really important," Dumdumaya said. "We really accept whoever wants to dance and has the same goal, the same passion that we do and we accept them as family."
Riturban said the only thing that matters in a dance group is sharing the same passion for dancing and hip-hop.
"Dance doesn't really have a color," Riturban said. "We don't stop that. Whoever is passionate and really self-driven, that's all we really care about."
Camille Anglo can be reached at [email protected]