GOOD: street food + market breathes new life into Del Paso design district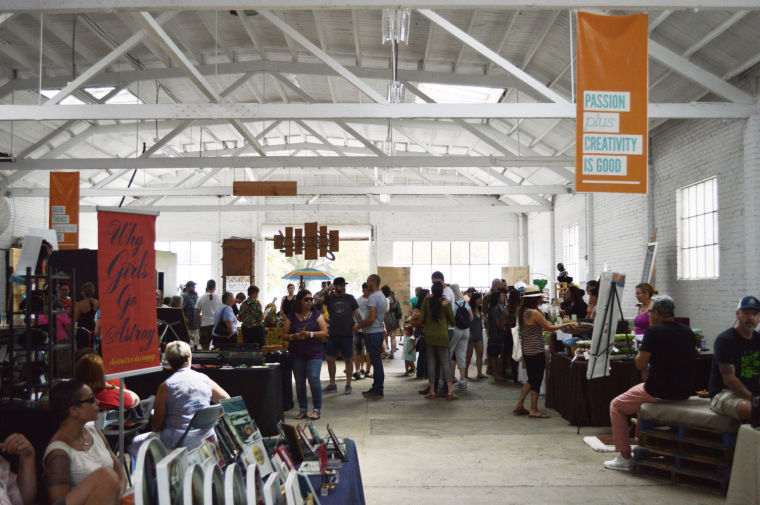 The award-winning GOOD: street food + market is held to support the local design community on Del Paso Blvd.
Awarded the American Planning Association's Local Vision Award in 2012 and featured on the Food Network blog, GOOD: street food + market features many works from local Sacramento designers such as street food, clothing, furniture and art.
Spearheading GOOD: street food + market is the event planning and design team Roshaun and Maritza Davis of Unseen Heroes.
Armed with inspiration from other markets such as the Chelsea Market in New York to the Ferry Building Farmers' Market in San Francisco, GOOD: street food + market was created as part of the larger plan to revitalize the Del Paso design district on Del Paso Blvd., Roshaun said.
"If you're trying to rebrand the area after the design district, let's create a design market for designers in the region," Roshaun Davis said. "Let's bring in some street food because that's another form of design in our eyes. That's how we created the market. It was all synergy with what ideally our client wanted."
With 30 to 40 pop-up shops that rotate monthly, GOOD: street food + market provides locals a chance to shop from local designers who don't have a store front.
The market also allows locals to sample Sacramento food trucks and eateries such as Popcycle, Hook and Ladder, The Mill Coffee and Volkswaffle.
In order to properly set up shop for most of the vendors and designers, Maritza said GOOD: street food + market was organized according to the warehouse's space.
"We really wanted to create a unique experience for people that didn't feel like 'Oh, we're in an empty warehouse. It's kind of yucky,'" Davis said. "We made it really warm and design centric and for them to have a good time."
Tracy Santiago-Avenell, the designer behind the vintage accessory brand She's Crafty, loves what the market has to offer locals.
"I love this place. I've been shopping here since it started last year. This is my first time selling and I've been getting good feedback," Santiago-Avenell said. "It's good people watching, it's a good vibe all the way around. If I wasn't selling, I'd be shopping right now."
GOOD: street food + market attendee Nycala Benson said the market could be the next big thing for Sacramento.
"It really speaks to the art community and to the of 20-30 year olds in Sacramento who like good food, they like supporting the local artists, it's great," Benson said. "I feel like this could be the next hip young thing and getting all the good things that Sacramento has to offer."
Camille Anglo can be reached at [email protected]