Hornet football showcases talent at preseason scrimmage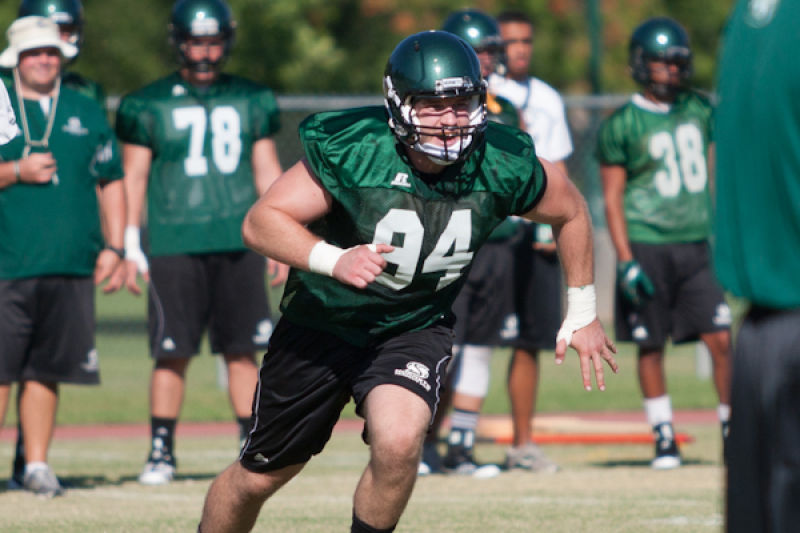 The opening day roster for Sacramento State football continued to take shape Saturday as the Hornets donned their helmets and pads for the preseason's first scrimmage.
The day was split into six individual periods in which the offense, dressed in white, competed in situational drills against the defense, who wore the home green jerseys.
Saturday was the first opportunity of the season for players to show the coaching staff what they are capable of in a game situation. Competition for playing time is heating up as the Hornets get closer to the season opener at San Jose State on Aug. 29.
Sac State head coach Marshall Sperbeck said scrimmages are an integral tool in drawing up a game plan and picking starters.
"I think they're real important," Sperbeck said. "Probably more important to those guys who are on the fringe of making the travel squad and those guys that are trying to compete for a starting job in the positions we still have open."
Among the standouts Saturday was junior defensive back Robbie Kendall, who is in his first year at Sac State after transferring from Butte College in Oroville, Calif. Kendall made several big situational tackles and seemed to always be around the ball while displaying great ability to reach up and knock down passes.
"I was just trying to be aggressive [and] read my keys right," Kendall said. "I've been struggling with those lately, but I started reading my keys good and making plays. [I was] taking chances."
Another impressive performance was that of junior kicker Jesse Aguilar, another transfer. Aguilar arrived in camp this season from Fullerton College, where he was an All-American.
Aguilar showed off his big leg Saturday, splitting the uprights on three field goals – one from 52 yards out and barely pulling another one to the left from 54 yards.
Perhaps most impressive, though, is that Aguilar said he is playing through a groin injury he sustained at practice on Thursday.
"It went good. I had a really good day today," Aguilar said. "My field goals were nice and everything was nice, it's just I don't feel 100 percent, so coming into this game I thought I was going to mess up. But I just got my confidence up and used my technique instead of power."
Aguilar said he's not used to the kind of work load he is seeing in practice at Sac State and the fall camp at Fullerton did not really prepare him for camp at a Division I school. Even so, he said, he does not expect to miss any time and will be ready to face San Jose State in week one.
Sperbeck said Aguilar could be the starter as he has been impressive in the absence of the injured Brad Cornish, who kicked for the Hornets last season.
"[Aguilar] had a nice scrimmage today," Sperbeck said. "He's been competing for that job with Brad Cornish and Brad was out today. Jesse got all the reps. He took a good step forward in being that guy."
Notably absent from Saturday's scrimmage was starting running back Ezekiel Graham, who injured his hamstring in practice last week. Graham practiced yesterday, but was held out Saturday. Sperbeck said Graham will be back to full strength soon and the team is just giving him some rest.
After the scrimmage, the Hornets welcomed the children in attendance onto the field to participate in some of the drills the players do in practice every day. The event, known as Bee a Hornet, is a favorite of the coaches and players.
Sperbeck said he appreciates how much his players enjoy interacting with the kids on the field.
"It's fun, it's good," Sperbeck said. "It's all about kids. I mean, our players were those kids at one time and coming out and doing the same thing. So they remember, obviously, a good experience and they like giving back."
The Hornets will return to the practice field tomorrow in preparation for their next scrimmage, which is scheduled for Wednesday at Hornet Stadium.
Alex Grotewohl can be reached on twitter @SH_Sports