Seniors bid farewell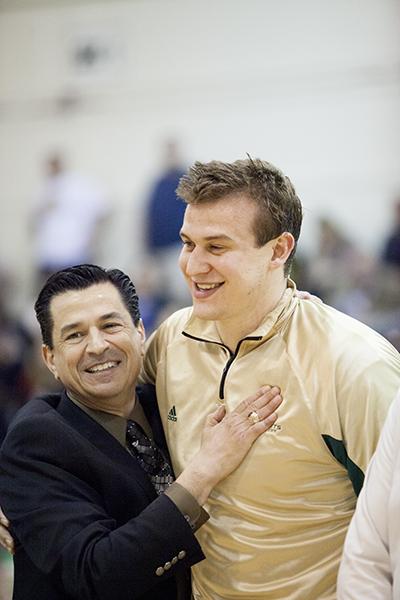 Clifton Jones and Gabe Pacheco
May 14, 2013
Some of Sacramento State's senior athletes have left significant marks on their careers and the university. 
Four-time Big Sky Champion and 2013 Big Sky Conference Most Valuable Player Rebeca Delgado finished her career at Sac State as a first-team all-conference player for four consecutive years. Delgado was the only player in the conference to be a unanimous selection to the first team.
Most notably, the solo senior helped the Hornets win their 12th-straight Big Sky Conference championship, while improving their unprecedented conference winning streak to 105 wins. 
In her last season as a Hornet, Delgado, at the No. 1 spot, compiled a 16-10 record in singles play and a 16-9 record in doubles. She was named Big Sky Player of the Week twice during the season with an 12-0 conference record. 
"My time playing at Sac State has been overall a really good experience," Delgado said. 
"I learned how to get along with eight different girls, the majority coming from different countries, cultures, and traditions. I learned a lot from my teammates and also from (my coach) Dimitry. I really enjoyed having him as my coach. I enjoyed having him watch my matches because he motivated me and sometimes, even by just looking at his eyes, I knew what he wanted me to do."
Delgado said the struggles of being a college student and tennis player will be something in the future she will later appreciate. 
"College wasn't easy (for me) because I had to adapt to a different culture, language, food and even architecture; however, I think every struggle has been worth it because I was doing what I liked the most," Delgado said. "When I look at the past, college will always be one of the best experiences in my life. All the competition, traveling, good moments and struggle of being away from my family."
Doubles partner and freshman Olivia Boija said playing alongside Delgado has been one of the best experiences she has had.
"To be honest, in my first match with her, I was so nervous to play," Boija said. "I really did not want to screw up, but the more we played, the better we got. I have learned so much from her and she has opened up my eyes and taught me how to play real doubles." 
Among the four graduating seniors from the Sac State women's basketball team, two had the best senior years anyone could ask for. 
Power forward Kylie Kuhns, who was named first team all-Big Sky Conference, led the Hornets to back-to-back Big Sky Conference appearances. 
Kuhns averaged 12.9 points per game and 11 rebounds, which helped the Hornets put together their best winning percentage in a season, with an overall record of 19-12 and a home record of 11-2. 
Kuhns' reign at Sac State ends with her becoming the Big Sky Conference's all-time leading rebounder and arguably the best player to have put on a Hornets' jersey. She is the all-time career steals leader at Sac State – the 10th player in the school's history to surpass the 1,000-career-points mark – and she also has a record of 52 double-doubles in her stellar career. 
"I hope that I finally turned this program into one of success," Kuhns said. "Before I came here, Sac State had been kind of a joke in the Big Sky. But this year, you finally started to see our program get the respect it deserves – especially from other teams in our conference. I hope that the program can continue to succeed and realize that hard work got us there." 
Kuhns is also a four-time Big Sky all-academic selection and looks to take her leadership role and hard-working mentality to the next level when she graduates. 
"I plan to go to law school and attend the University of Kansas," Kuhns said. 
Alongside Kuhns, center Megan Kritscher also had a remarkable senior year. 
Kritscher added herself into the record books when she broke the Big Sky Conference single-season blocks record of 100 on Feb. 28 at Weber State.
With an average of 3.6 blocks a game, Kritscher finished her season with a total of 111 blocks. On Dec. 7, 2012, Kritscher recorded a career high against Eastern Illinois with a total of eight blocks. 
"It's been a great experience," Kritscher said. "I was able to play in a system and for a coach that allowed me to play to my strengths and grow as a basketball player. I know now I made a great decision to come to Sac State, and I'm so glad I got to play with some awesome teammates and learn from great coaches."
Junior shooting guard Alle Moreno said there are not enough words to go around that can describe how the seniors impacted her and Sac State.
"They were all an inspiration and they all left this program with so much to be proud of. They are all four amazing people, who are going to do tremendous things in the world and I'm so glad I was able to share three wonderful years with them." 
The other two notable Hornets graduating are Mallorie Franco and Natasha Torgerson.
Franco ended her career at Sac State as a four-time Big Sky all-academic selection – as did Torgerson, who posted a career-best 32 percent three-point percentage this past season. 
Torgerson scored a career-high 22 points in her final home game against first-place Montana. 
The Sacramento State's men's basketball team also said goodbye to four seniors of its own – John Dickson, Konner Veteto, Joe Eberhard and Julian Demalleville.
Head coach Brian Katz said despite ending their careers without making it into the Big Sky Conference, the seniors ended their time at Sac State on high notes.
"They are some great kids and certainly helped us win games and got us to a respectable leave," Katz said. "In addition to that, they left a legacy in the way they handled themselves and behaved – they were really good role models – a true definition of student athletes."
Dickson finished his senior year averaging a career best 12.8 points per game to go along with 5.7 rebounds. Center Konner Veteto nearly matched Dickson's numbers with 10.2 points per game and 5.7 rebounds. 
Veteto said he has a desire to play overseas in an Italian league. 
"He has a chance if he wants to – no question," Katz said. "Bigger guys are more likely to play overseas. We'll see how that comes about in off-season developments." 
Sophomore point guard Dylan Garrity said the seniors have prepared him well enough to be the next one to carry the torch and lead the team come next season. 
"They have all taught me a lot in their own ways on and off the court," Garrity said. "(They taught me things) from leadership, to toughness, to never forgetting the importance of family and friends."
Sacramento State softball's seniors enjoyed their last weekend at Shea Stadium. In what was a day filled with tears from the seniors' parents, coaches and teammates, the Hornets lost the last home game of the season against Idaho State 6-3 on May 5.
The four senior players that were honored at Shea Stadium were third baseman Emily McCormick, center fielder Kelli Frye, infielder Lauren Blair and catcher and first baseman Molly Smith.
Blair said she will miss playing with these four seniors because of what they have been through together at Sac State.
"I will miss the memories us four have shared over the years," Blair said. "It was nice to see we all made it to this day."
Blair's role on the team was to be a leader to the younger players and playing whenever head coach Kathy Strahan needed her.
Although Smith couldn't play that day with the other three seniors due to her knee injury she suffered on March 23, she said she was still happy to be there with them that weekend.
"I (was) just happy to be here to see these three play (that) weekend, because they are all awesome to be around," Smith said.
The two seniors who did start most of this season, McCormick and Frye, both played the latter part of the season with injuries.
Frye suffered a strained tendon in her heel in the first game against San Jose State this season on March 26. McCormick had elbow bursitis after she was hit by pitch in the Portland State series on April 26-27.
Frye said after the good start in the first game during senior weekend, Idaho State came out and played the way they know how.
"The momentum changed in their favor during the second game of the double-header – they were the ones scoring runs and we didn't," Frye said.
McCormick's elbow was a major factor in her ability to hit the ball well in the second game of the double-header against Idaho State on May 4.
"It was frustrating because I tried to focus on playing well but I was in so much pain that day," McCormick said.
McCormick said she will miss her senior teammates because of the time they spent with each other.
"We had a lot fun over the years together. I am going to miss these girls," McCormick said.
Blair said it was easier to have fun her senior weekend without worrying about winning one game to make into the Big Sky tournament.
Strahan said she is happy to see her four seniors to grow into great young women but doesn't know what the offseason entails for her team and what the absence of the four seniors would be like next season.
"I have no idea what its going to be like. We will have end-of-the-year meetings and go from there," Strahan said.
Clifton can be reached on Twitter at @jonesSHsports
Gabe can be reached on Twitter at @sh_sports