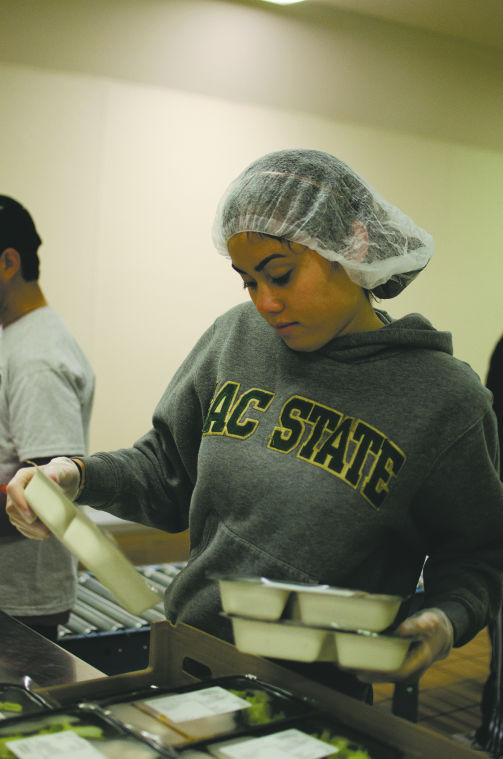 His hands full of heavy bags and food boxes from the Sacramento Food Bank and Family Services, graduate student Jacob Guinn expected to carry the provisions to an elderly gentleman's car.
But when they were done walking, Guinn was surprised to find himself at a bus stop. He also realized the bus they needed had just departed. 
"It really hit me," Guinn said. "It's just not getting the food that can be an issue, but getting it home or wherever (the elderly gentlemen) was headed on the bus."
Working on his master's degree in communication studies Guinn is involved in Sacramento State's Alternative Break and Sac State Serves programs, community service opportunities provided by the Community Engagement Center.
Each California State University is mandated to have a center for community-based activities to "impart vital civic skills and knowledge," according to a resolution passed by the Board of Trustees in 2000.
"(The activities) enhance (students') academic studies," said Community Engagement Center Director Sheila Macias. "It gives them the opportunity to do professional networking and develop leadership skills – a more holistic and global perspective of the world – which is what we're hoping all students have."
Macias has been the director for 12 years and helped expand the Center from a small outreach program to a spectrum of engagement opportunities.
The Center hosts an annual civic engagement event in the form of Constitution Week. Macias collaborates across the campus with various departments to host a week of topics focused around the Constitution.
The Center also provides community-based learning such as Service Learning, which includes academically driven courses offering an exploration of civic and social issues, such as race and ethnicity.
Under the same umbrella, the Writing Partners program allows university students to exchange letters with elementary school students. Towards the end of semester, Sac State students write a letter inviting their partner to visit the campus.
"The purpose of Writing Partners is to really be an outreach to (the) under-served and underrepresented population, (and) disenfranchised students so they know college is possible," Macias said.
Finally, the Center provides community service opportunities through Alternative Break, week-long events during winter intersession and spring break, as well as Sac State Serves – monthly single service projects.
"Our Alternative Break is different than other universities' because we directly do projects in the Sacramento region, which keeps it free for students," said Program Coordinator Misty Garcia. "It addresses the needs that we have in our own backyard."
Both Macias and Garcia agreed community engagement strengthens students as individuals as well as their world.
"It's about having a sense of community, personal development, professional development (and) academic development," Garcia said. "All the things that you need both in the classroom to succeed to graduate and then succeed once you're out of the university."
Sacramento State was named a member of the 2013 President's Higher Education Community Service Honor Roll, an award recognizing college students across the country for making significant contributions to their communities.  
The designation is one of  "the highest honor(s) a college or university can receive for its commitment to volunteering, service-learning and civic engagement," according to a press release.
An estimated 2150 students at Sac State provided 74,917 service learning hours to 133 nonprofit, faith-based education and government partners. This is the fifth consecutive year Sac State has been honored with the award.
The award defines community service through internships, practical experiences, volunteering and service learning, and is not exclusive to the work of the Community Engagement Center.
"I don't want (the award) to be about the Center because it is not," Macias said. "The award is for the entire campus."
Guinn, who transferred to Sac State from a community college in 2009, became curious about Alternative Break after noticing picket signs posted around the campus advertising the program.  
He said he continues to volunteer because community partners see his hard work and "Sac State awesomeness" and invite him to return.
"Part of community service is teaching students to learn to become part of something bigger than themselves," Guinn said. "There's other things going on the world at the same time so community service is great because it helps me understand those other issues. That realization that I am an individual but I can impact other people. (It's) also the essence of what community service is: It's placing the needs of others before yourself."