Pitching shuts out Idaho State in game 1; gives up 11 runs in game 2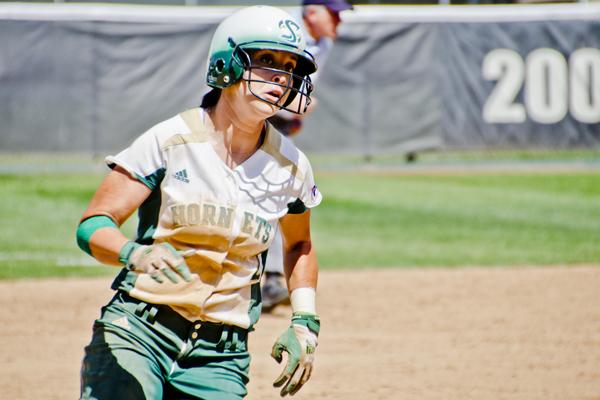 Sacramento State softball started its last home series of the season Saturday afternoon by splitting the two games today at Shea Stadium against Idaho State.
The Hornets won the first game 2-0, but lost the second game 11-6. 
Sac State clinched the last spot in the tournament after yesterday's competition in the Big Sky with Northern Colorado and Weber State both losing their games. 
"It was great to have the pressure off our backs heading into today's games. It really helped our team by not playing with the pressure," said head softball coach Kathy Strahan. 
Sac State was led by sophomore pitcher Caitlin Brooks as she struck out a career high 12 batters. Brooks did not allow any walks or any runs to score on three hits.
Brooks retired the first ten batters of the game, striking out seven of the twelve Bengals. Although Idaho State forced Brooks into trouble in the fourth, sixth and seventh innings, she found a way out in each situation with a strike out and some help from her defense. 
Sac State's offense gave Brooks a hand, giving her the lead after the first inning. The first inning for the Hornets started the first inning when senior center fielder Kelli Frye singled. Later that inning, she scored off a single by freshman catcher Kortney Solis. 
However, the Hornets stranded runners on base the next five innings until the sixth inning when they punched their second and third runs of the game with the help of sophomore right fielder Paige Martin's smart base running, advancing to second on an error by second baseman Micheala Taylor.
Martin later scored on a single to right field by freshman second baseman Kayla Papez.
In the second game, the Hornets were not able to keep up with the offensive power of the Bengals. 
Strahan gave junior pitcher Taylor Stroud the day off by pitching freshmen Jennifer Hartman and Kaitlyn Yerby. 
Idaho State almost batted around in the first inning, knocking Hartman out of the game by putting up five runs including a grand slam to Idaho State's right fielder Katee Wiley. 
Yerby finished the game pitching the last 6.1 innings and allowing six runs on nine hits. She walked two and struck out one batter. 
"Our pitching in game two was the reason we couldn't keep up with Idaho State," Strahan said. "But it was interesting to see our offense kind of wake up in the second game."
Even with five runs of the Hornets' six coming in the last three innings, Sac State's offense was not enough.
"The momentum shifted in the second game against us and we were never really able to get it back," Frye said. 
Sac State will face the Idaho State Bengals again on Senior Day tomorrow. First pitch is at noon.
Clifton can be reached on Twitter at @cliftonSHsports