Women's basketball wraps up season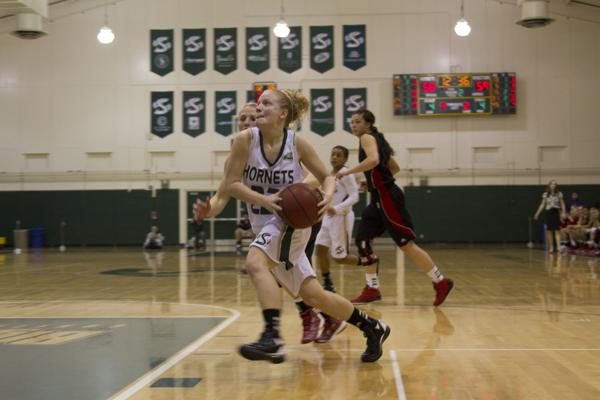 State Hornet Staff
April 3, 2013
Just because you are not the champion does not mean you are not a winner.
The Sacramento State women's basketball team ended its season early after being knocked out of the Big Sky Tournament, but that loss was surpassed by multiple program accolades.
The team had a 19-11 overall record on the season, being tied for the most program wins in school history and the record for most wins since becoming a Division I school in 1991.
The Hornets' 13-7 Big Sky record landed them in fourth place going into the conference tournament, which passed their previous record of 10 wins.  
"As a team we took steps forward to better our school's program," said sophomore guard and co-captain Fantasia Hilliard. "All of the records set this season all came down to hard work and fight."
Sac State went 11-2 at The Nest and used its home court advantage to reach these new program records.
"This team found ways to win on the road, but then have a really strong home advantage and we need to build on that," said head coach Jamie Craighead.
For the second year in a row and the second time in school history, the Hornets made it to the conference semifinals, but lost.
Big Sky champion Montana momentarily ended Sac State's season on March 15 – with hopes to still make the WNIT – although it was confirmed just a few days later the Hornets did not make the tournament.
"There's nothing you can do about that and we had our chances throughout the year that could have solidified that spot," Craighead said. "I think it allows our players that are returning to have a little bit of motivation."
Aside from team improvements, there were notable individual honors as well.
Hilliard set the school record for single-season assists and finished first in the Big Sky with 180 assists.
Senior forward Kylie Kuhns is the new Big Sky career rebound record holder and the fifth player in Sac State history with more than 1,000 rebounds and points.
Kuhns said the team's success was based on teamwork and the collection of returning players who had previous experience playing together.
"This team did not have one superstar that could lead us to victory, but we had a strong collective unit that could win," Kuhns said. "Our best games were when we got contribution from everyone. All the stats, including points, were distributed amongst multiple people."
Craighead said Kuhns and the other three seniors Megan Kritscher, Natasha Torgerson and Mallorie Franco, led the team chemistry this year, which was key in the Hornets' performance.
"I think that had to do a lot with what we tried to focus on this year and I think it also had a lot to do with confidence from the year before," Craighead said. "They felt like they belonged and that we could win games."
Craighead said the new records are something to be proud of, but she enjoyed watching the seniors play at their best.  
"There were big program wins, but the coolest part for me was seeing the entire senior class sort of finally all figure it out," Craighead said. "As a coach you never know when the light bulb is going to come on and I felt like those kids could really be proud of what they've accomplished here and that they'll be proud to be Hornets for life."
Jillian can be reached on Twitter at @jillian1035