Softball splits final test before resuming conference season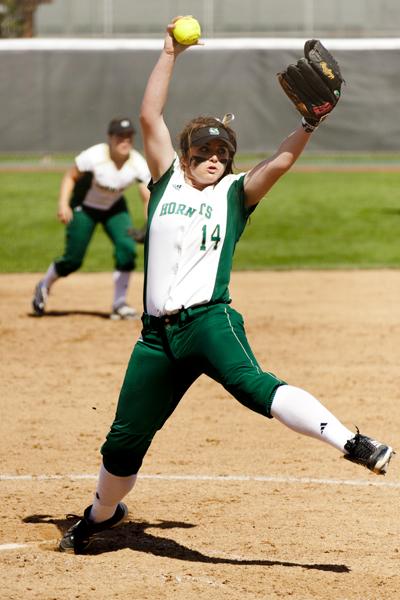 In what was a tune up game for Sacramento State softball, the Hornets were able to split yesterday's double-header against University of Nevada. 
The Hornets won the first game 1-0 against the Wolfpack, but lost in the second game, 5-1. 
Junior pitcher Taylor Stroud was able to provide her best start all season for the Hornets in the first of the two games. 
"It was good to come out and play well today," Stroud said. "I was relaxed knowing that my defense would back me up with any ball that was in play."
Although the Hornets were only able to score one run against the Wolfpack, Sac State's bats were there in plenty. The Hornets collected five hits off of Nevada's ace junior Karlyn Jones, but most of the hits were singles. 
Sac State broke through the wall early in the game with a clutch two-out double by sophomore Alexa Chattleton, scoring freshman first baseman Alyssa Vanderdrink in the second inning. 
"I like that these games were really a tune up game for us heading into our next conference set instead of sitting idle from Saturday to this Friday," said head coach Kathy Strahan.
Stroud work her pitches to keep the Nevada batters off balance. 
"My curve ball and rise ball were great for me helping get the necessary outs in the third and seventh innings," Stroud said. 
The second game of the double header allowed most of the reserves to see a lot of playing time. Strahan felt that it was best to rest some of the players to be ready for Southern Utah this weekend. 
Sac State offense failed to bring in more than one run. The Hornets had three chances to bring in runners from scoring position in the second, fifth and seventh innings. 
Strahan said the biggest difference in the second game was Nevada's pitcher.
Wolfpack sophomore pitcher Megan Dortch took away some key at bats by striking out Hornet batters and providing easy plays for her defense. 
"Dortch was over powering today against us," Strahan said. "Earlier in the year we were able to pick her apart, but today we were not able to."
Sac State travels to Utah to compete against Southern Utah on Friday and Saturday in a three-game series. First pitch of the double-header Friday is at 11 a.m.
Clifton can be reached on Twitter at @jonesSHsports