Sac State, Portland State take one each in Friday doubleheader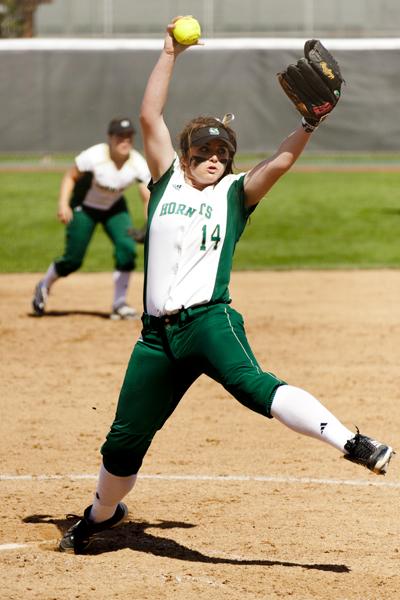 After taking a week off from play, Sacramento State softball faced Portland State in a double header today in Portland with the Hornets losing the first 1-0 and winning the second 8-0. 
Hornet junior pitcher Taylor Stroud pitched well in the first game, but her offense did not back up her performance. Stroud only allowed one run on two hits while walking two and striking out three batters. 
The two hits allowed by Stroud came from Viking center fielder Becca Bliss and first baseman Brittany Hendrickson. Bliss singled to break up Stroud's no hitter in the bottom of the fourth inning and she later scored the only run on Hendrickson's double. 
After walking two in the fifth inning, Stroud settled down and retired the last four batters she faced. 
"I never lost faith in my teammates, and I knew that they would do whatever they could to try to score," Stroud said. 
Sac State had runners in scoring position four consecutive times, but could not come through when the opportunity presented itself. 
Softball head coach Kathy Strahan said the lay off from the North Dakota series was not to blame for ineffective hitting by her team, even though Sac State struck out five times looking, which frustrated the Hornet bench. 
"It was frustrating for us, because we practice defending the plate all the time," Strahan said. "We could have easily swept today, but the called third strikes really affected those chances." 
Vikings pitcher Anna Bertrand kept the Hornet offense from scoring as she struck out a total of 11 batters. 
Sac State bounced back in the second game, credited by Hornet ace sophomore Caitlin Brooks and the big sixth inning that broke the game wide open. 
"I was disappointed in how our offense performed today in the first game, but in the second game we were able to take advantage of scoring runs when we had the opportunities," Strahan said.
Sac State started the game in the top of the first with a single by senior third baseman Emily McCormick that scored senior center fielder Kelli Frye to give the Hornets a one run lead. 
The Hornets were held scoreless for three innings until freshman shortstop Alyssa Vanderdrink doubled off the left field fence. She would later score off a single from McCormick.
The sixth inning began with the Hornets scoring three runs. Freshman catcher Kortney Solis's three-run home run later in the sixth inning was all that was needed for the win.
"At first, I had no idea it was going to go out," Solis said. "Even when Becca Bliss knocked over the fence, I still didn't think it went over."
Sac State and Portland State will face off again tomorrow with both their aces taking the circle. First pitch is at noon.
Clifton can be reached on Twitter @jonesSHsports