Longest softball game in Sac State history stopped due to darkness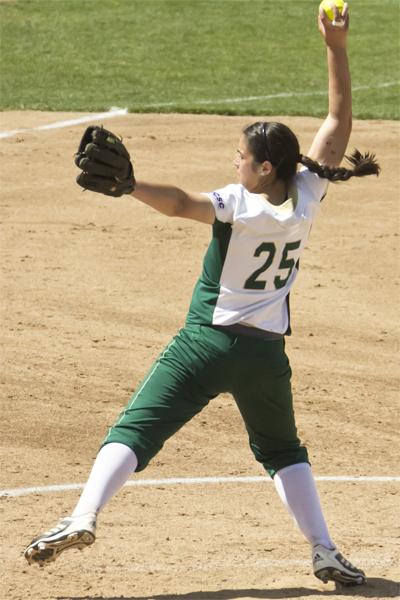 Sacramento State softball made history in Friday's double header against Weber State at Shea Stadium. 
After 14 and a half innings of play, the second game was called due to darkness with the Hornets down 6-3. 
Sac State will resume play today at noon. The game broke the program's record for the longest game since it turned Division 1 in 1991. 
"Looking back at this game, we are really blessed to be in the record books here at Sac State," said sophomore first baseman Riley Price. "We just need to come out tomorrow with intensity in order to get ourselves back in this game." 
The Hornets got the game started when freshman shortstop Alyssa Vanderdrink blasted a solo home run to left field leading off the second inning. 
Sac State picked up their second run when Vanderdrink sacrificed a bunt in order to score sophomore right fielder Paige Martin, but the Wildcats answered right back.
The Wildcats designated hitter Stephanie Mathias singled in freshman Rudi Barrios that gave the Hornets only a one-run lead.
The Hornets scored their third run in the game when Price bombed a home run over the center field fence in the fourth inning. 
"It was important to be able to score that third run, because it gave our pitchers the confidence to go out and pitch well for us," Price said. 
The Wildcats eventually answered the two runs back when they scored both runs off three straight doubles by freshmen Alyson Kulp, Rudi Barrios and junior Brook Silva in the top of the fifth inning. 
Hornets head coach Kathy Strahan said that it was nice to see Vanderdrink and Price hit their home runs, but the young team made mistakes offensively. 
"We left so many runners on base because of the inconsistency of our offense and because of the youth on this team," Strahan said. 
One of the reasons the Hornets and Wildcats pushed the second game into extra innings was effective pitching on both sides.
The Hornets used three pitchers – junior Taylor Stroud and freshmen Jennifer Hartman and Kaitlyn Yerby.
Stroud took on the bulk of the second game. She allowed one run on four hits while walking four and striking out seven.
"I was pitching my game, making sure I was able to get my team out of the jams to give us a chance to win the game," Stroud said.
The Hornets finished their first game relatively fast compared to the second game as sophomore Caitlin Brooks dominated another conference opponent in a 3-0 win.
She allowed zero runs on three hits when she walked one batter and struck out eight Wildcats. 
The only offensive input in the first game was in the third inning when left fielder Alexa Chattleton doubled and later scored on sophomore right fielder Paige Martin's single. 
Senior third baseman Emily McCormick later scored with senior center fielder Kelli Frye on a two-run single by freshman catcher Kortney Solis. 
Sac State will finish up game one and look to close out the home conference series against Weber State today. 
First pitch will be 20 minutes after the conclusion of the first game.
Clifton can be reached on Twitter at @jonesSHsports