Hornets end inaugural sand volleyball season with 2-6 record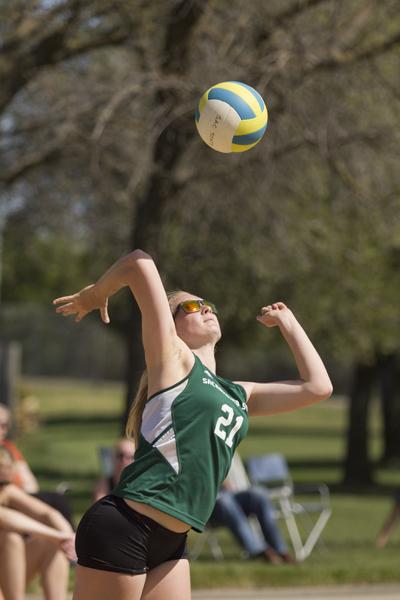 The Sacramento State sand volleyball team fell short in its only two away matches of the season against University of San Francisco (3-2) and Stanford (4-1) on Sunday.
Partners junior Hannah Hettinga and freshman Katelyn Ivy, along with the freshmen duo of Lauren Aikels and Sloan Lovett, racked in Sac State's first victories of the day against San Francisco.
Hettinga and Ivy played to a 3-2 decision with scores of 21-15, 18-21 and 15-13. Aikels and Lovett also had a 3-2 match with 22-20, 17-21 and finished with a strong 15-4 set.
However, the three other teams were unable to seal the deal as the remaining matches were 0-2 losses.
"There were some really close games in this match (against San Francisco)," said head coach Ruben Volta. "I was still happy because each group has gotten better."
The next match against Stanford posed as an even bigger challenge.
"Stanford had a different line-up," Volta said. "I think they were much stronger in the way they're set up now. Our ones and twos beat their ones and twos last time, but they made some shuffling and made them a little tougher."
Hettinga and Ivy pulled in their second win of the day and the only one against Stanford in another 3-2 match (22-24, 21-18, 15-11).
Three of the Hornet pairs lost in 0-2 matches and another lost in a 2-3. Stanford finished its season with a 6-1 record overall.
"(Stanford) has a really good program here," said junior Kayla Beal. "As a whole, I think we competed really well and played to the best of our abilities."
These last two games concluded Sac State's first sand volleyball season with a 2-6 record. 
Both Beal and Volta agree that the sand season will only help the team grow and learn from a different aspect of volleyball overall.
"I'd like to think they're going to learn a lot about patience and maturity," Volta said. "In playing doubles, coaches aren't allowed to coach every single play. They've had to learn how to handle a lot on their own, so I'm hoping that sort of maturity on the court comes through."
Maikalina can be reached on Twitter at @sh_sports