Woman is dogs' best friend at Sac State student's privately funded dog rescue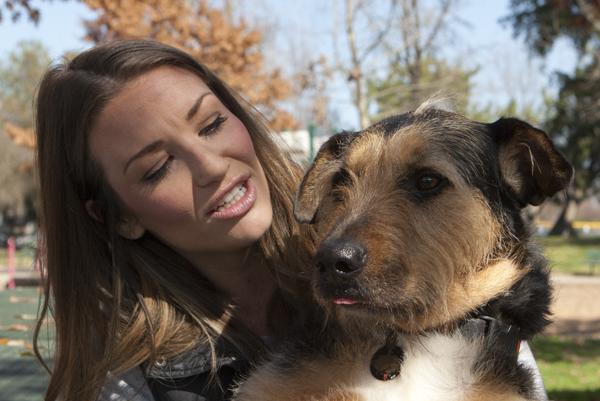 State Hornet Staff
March 12, 2013
Three to four million cats and dogs – one every eight seconds – are put down in shelters around the United States every year, according to the Humane Society's website.
One way the rate of euthanasia is being reduced is through private shelters.
Alison Turner, senior business major at Sacramento State, said she was captivated by the idea of rescuing dogs at a very young age.
At age 6, Turner was taken to a local animal shelter, where she met Spike, a blue heeler mix who was scared of garbage trucks. This meeting led Turner to understand the dynamic between owner and dog – a partiality that continues to this day.
Four years ago, Turner found a dog barking at goats on the hills of Browns Valley. Six months old, Chico was a stray dog who had never been exposed into to home life.
After calling the pound to report Chico as found, the pound told her there was a two-week waiting period for the owners to claim the stray dog. No one called and Turner rescued her first pet.
After a year with Chico, Turner's second dog Jackson was found with two other puppies. One of the puppies was Jackson's sister Abby.
Abby would become the first puppy Turner adopted out.
"We had to make sure she was ready. She needed all of her shots, medication, food and all of that," Turner said. "Then after that, it got the ball rolling for my rescue business."
The Humble Dog Rescue takes in all breeds, shapes and sizes, Turner said. The only contingency is they cannot be aggressive because those dogs are harder to place in family homes.
Turner keeps all the rescued dogs in her home, which she shares with her boyfriend, Jess Lima.
Lima, an alumnus of Sac State, said he believes in his girlfriend's cause and has a big love for dogs himself. His family has always had more than one dog in the house when he was growing up. Lima said he supports the saying "dog is man's best friend."
"The canines have evolved alongside humans and has been a consummate partner for thousands of years," Lima said. "They complement our existence, just as we complement theirs. If I can help others come to this realization while helping a dog fulfill its role as a best friend to people, I will gladly oblige."
Turner's philosophy behind The Humble Dog Rescue is to take in any dog that needs a home, get them healthy and give the dog an opportunity to experience life as a household pet.
When the dogs are in Turner's home, she treats the rescues as her own. This includes a daily three-mile walk in the morning and a half-mile walk in the afternoon.
"Routine is key when the dogs are at my house. It establishes a sense of support and security for the dogs who have never experienced that type of relationship before," Turner said.
If Turner and Lima plan a trip to the river, beach or out of town, all dogs are sure to be riding in the back of the car. For some of the rescued dogs, this is the first time they get to experience a family environment.
Having to come home to her boyfriend and two male dogs, Turner finds herself partial to the female rescues.
"The girl dogs bond with me a little better," Turner said. "Seeing them have that connection makes me want to give them a mom even more. But then I think, 'Wait-I can be their mom,' and then it's hard to let go."
Turner said her heart always fell towards the dogs who come from rough backgrounds.
"If they've had a harder life, then it tends to be harder to let them go," Turner said. "You see them grow, which is really amazing to be a part of. It's remarkable to have an opinion of a dog in the beginning and then they transform into a happy dog, living a life they never knew existed."
In order to support a new life after adoption, Turner provides all her rescues with their first round of vaccinations and a care package. This package includes: a collar, leash, gallon-size bag of food, toys, adoption information sheet and a list of basic obedience training skills the dogs were exposed to while in Turner's care.
Turner uses multiple resources to get the word out about potential adoptees by using social networking, hanging posters on cork boards, and word of mouth. Dogs are most likely to be adopted within two months Turner said.
All the expenses accumulated during the rescue's stay come out of Turner's pocket.
The rescue program is a hobby while Turner finishes her business degree.
Turner said she hopes to one day turn to her rescue into a large non-profit organization. Turner plans to purchase property to house multiple kennels, pounds of dog food, tons of toys, and to provide rescues to many families.