Softball walks off to win series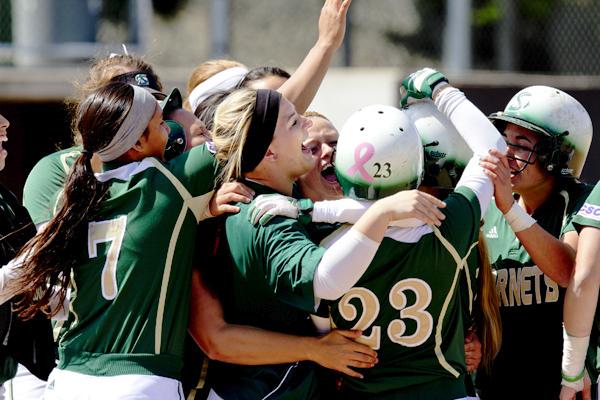 Sacramento State softball was able to beat Northern Colorado in walk-off fashion Saturday, but it was not your typical walk-off. 
The Hornets won the game 1-0 when junior shortstop Yesenia Alcala walked on a full count to score pinch runner Nicole Clark. 
Sophomore Caitlin Brooks rebounded from yesterday's shelling by the Bears. She allowed zero runs on three hits, walking only one batter and striking out ten. 
"We have been through games like this all season," Brooks said. "So I knew if I gave my team a chance to win the game, they would eventually get some offense going." 
Today's win gives her two complete game shutout wins on the season. 
Brooks got out of two jams in the third and sixth innings today, leaving runners on third base. 
"I came out hungry today for this game to help my team especially after the game I had yesterday," she said.
Sac State had base runners threatening the entire game, but they were not able to cross the plate until Northern Colorado sophomore pitcher Kelci Cheney fell apart in the seventh inning. 
The Hornets were able to take advantage of another key lead off at-bat, this time from freshman second baseman Kayla Papez when she singled to left field. Senior designated hitter Molly Smith then reached base on a fielder's choice and after freshman first baseman Alyssa Vanderdrink placed a sacrifice bunt to move over both Smith and pinch runner sophomore Nicole Clark, who came in for Papez, was one base closer to home. 
A walk was all that was needed.
"I believed in my team 100 percent," Brooks said. "It didn't matter if it took them one inning or the whole game to score that game winning run."
Brooks said the Hornets' win today was huge, giving the team its first conference series win of the season.
"Every day it's a new day," Brooks said. "We just have to go out and forget the past and focus on that day's game."
Sac State's record on the season improves to 16-9 and 2-1 in conference play. 
The Hornets travel to San Jose State on Tuesday to make up an earlier game that was postponed due to weather. First pitch is at 1 p.m.
Clifton can be reached on Twitter at @jonesSHsports