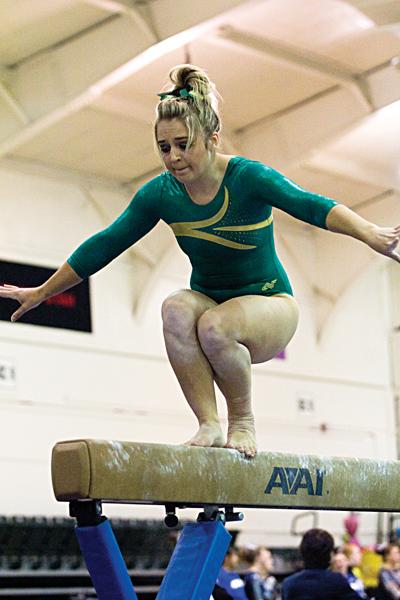 Sacramento State gymnastics honored seniors Cayla Beutler and Nicole Meiller with their families at The Nest, Sunday. 
The two seniors helped lead the Hornets in all events, outscoring the Air Force Academy 194.925-192.675. Both Meiller and Beutler finished in the top three in every event. 
"I am beat up from my years as a gymnast, so it's a bitter sweet finish to my career at Sac State," Meiller said. "I am sad it's done, but I am looking forward to no more wear and tear on my body."
Both seniors shed some tears during the announcements at the end of the meet. Meiller especially did when the public address announcer talked about her father passing away this year before the season. 
In the first rotation, Beutler landed awkwardly on her ankle during the vault exercise. Head coach Kim Hughes said the team was concerned Beutler was not going to be able to finish the night. 
"I was a little worried, but she was able to battle back and do well for us tonight," Hughes said. 
After Beutler finished her last floor exercise, she was bombarded by fellow teammates giving her hugs. 
"I was totally not expecting that when I turned toward my team," Beutler said. "I was so happy to see them out there."
Hughes said there is a lot of improvement for the Hornets to do going into the Western Athletic Conference championships. 
"We have a couple of players still healing up from previous injuries in the season," Hughes said.
Beutler's best rotation tonight came in her final floor exercise, where she scored a 9.800. The score tied her for second best tonight with teammate junior Katie Osaki.
Beutler also finished fifth in the all around competition with a 38.100.  
Meiller also stood out in in vault and uneven bars. The senior was able to better her personal best score on vault tonight with a 9.850. 
She finished tied for second overall in the uneven parallel bars with a score of 9.775. 
Sac State will travel to Cedar City, Utah to compete in the WAC Championship on Saturday at 5 p.m.
Clifton can be reached on Twitter at @jonesSHsports