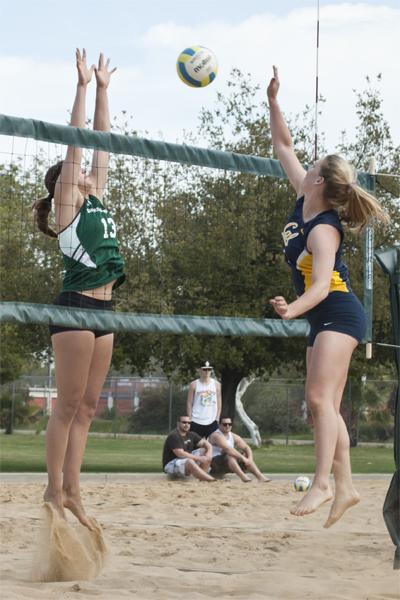 Logan Smith
When the Sacramento State women's indoor volleyball team ended its season earlier than expected in 2012, another chance to compete before the fall season arose when sand volleyball became the 21st intercollegiate sport at the university this spring.
In the first match of the Sacramento State women's beach volleyball inaugural season on Saturday, the Hornets beat the Cal Golden Bears three games to two at the Sacramento Softball Complex.
The pairs of Jessie Genger/Sydney Kordic and Kayla Beal/Katie Aprile gave the Hornets an early lead by winning the first two games. The first game was won in three sets (21-9, 17-21, 15-8), while the second game was a two-set sweep (21-14, 21-12).
Cal would respond in the next game after Joan Caloiaro and Milo Katarina defeated Hannah Hettinga and Katelyn Ivy after forcing a third set in Game 3 and winning 15-8.
The fourth game was not as close when the Golden Bears' pairing of Kat Brown and Lindsey Parrott overwhelmed the Hornets' duo of Sloan Lovett and Lauren Aikels in two sets, 21-17 and 21-13.
The fifth game was a battle between Sac State's Breanne Menees/Kelsey Elston and Cal's Christina Higgins/Janelle Jordan. The Hornets would easily take down the Golden Bears in the first set, 21-14, but the second set went down to the wire.
After the longest set of the day, the Hornets ended up victorious, 21-19, sealing the program's first ever win.
The next game on the schedule will be at home again on Friday, as they will face San Francisco at 3:30 p.m.
Russell Preston can be reached on twitter @PrestonSHsports.