Men's basketball drops in Big Sky Tournament standings with three games left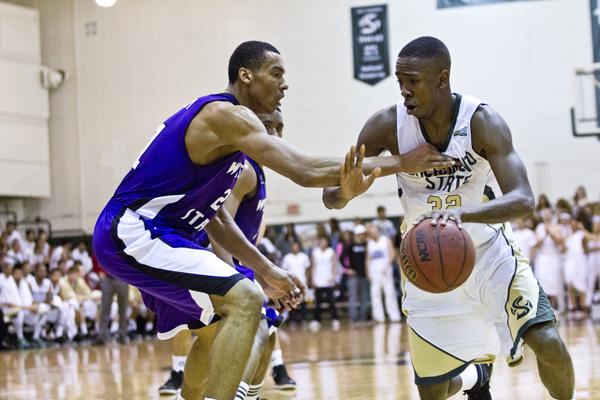 The Weber State Wildcats roared their way to a double-digit victory at the Nest Thursday, leaving the crowd of buzzing Hornet fans silent in the end.
With the 70-55 loss, the Hornets (13-13, 7-10) fell to eighth place in Big Sky Standings with three games remaining. Currently, Sac State is battling it out with Southern Utah, Northern Arizona, Northern Colorado and Montana State, who are all within one game to secure a spot in this year's Big Sky Tournament.
Some red-hot shooting from Wildcats' (20-5, 15-2) forward Davion Berry and guard Scott Bamforth in tonight's game not only extended their winning streak to eight games, but have also made every game that much more crucial for the Hornets from here on out.
"We have three to go," said head coach Brian Katz. "I think if you win one, you're rolling the dice; I think if you win two, you're in; but I can't say that for sure. I don't know how that's going to play out. We need to win this one Saturday."
As a team, the Wildcats showed why they are No. 1 in field goal and 3-point percentage shooting 45 percent from the field and 55 percent from 3-point territory. Berry's 22 points and Bamforth's 14 points came at a combined 11 for 17 from the field and 8 for 13 from 3-point range.
It was the highest shooting percentage the Hornets have given up to any team all year.
Sac State senior forward John Dickson finished with six points on a rough night shooting the ball, going 3 for 13 from the field and 1 for 5 from 3-point territory.
"I felt like I missed a lot of give me stuff that I knew I could make and that I make in practice all the time," Dickson said. "I felt like me and Konner (Veteto) played really good defense down low in the post. We did our job on defense, but they're a really good team."
Senior center Veteto and sophomore point guard Dylan Garrity led the Hornets with 12 points a piece, while Mikh McKinney struggled from the field with just six points on 3 for 10 shooting.
As a team, the Hornets shot 21 for 53 from the field and 4 for 14 from 3-point territory.
Saturday's game at 7:05 p.m. will be the last home game for seniors John Dickson, Konner Veteto, Joe Eberhard and Julian Demalleville.
"All the seniors are going to be ready to play. It's our last game ever playing at Sacramento," Veteto said. "I know we're going to play with pride and give it our all, so we can say we did our best in our last game. We gotta win Saturday and we'll figure out a way."
Gabe can be reached on twitter at @sh_sports