Bullpen unable to close out Bakersfield series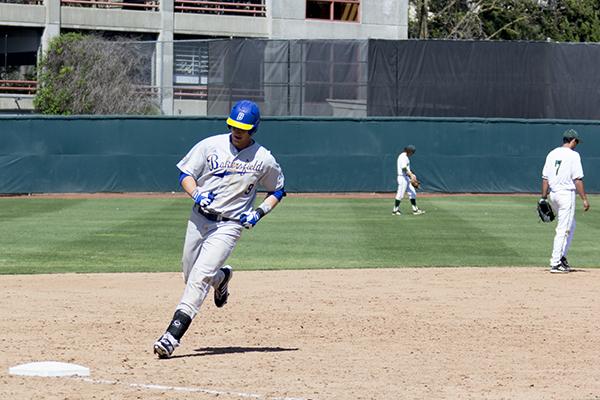 State Hornet Staff
March 25, 2013
Sacramento State was well on its way for its first win of the season until it handed the game off to its bullpen.
Starting pitcher Tanner Mendonca pitched 7.2 innings in the final game against CSU Bakersfield Sunday, allowing only one earned run before he was replaced by a pair of relievers. 
Senior Brandon Creel and freshman Sutter McLoughlin gave up a combined three runs on three hits, including a three-run home run in the 10th inning launched over the left field wall by first baseman Cael Brockmeyer, giving the Roadrunners a 6-3 win.
"It was a fastball inside that probably got a little too much of the plate," McLoughlin said after he gave up the home run. "You have to hit your spots."
McLoughin took over the closer role from R.J. Davis who graduated last year and leads the bullpen with four saves.
"As a closer, you need to have a short memory," McLoughlin said. "You have to forget about things like this."
The loss drops the Hornets' record to 13-10 and 1-2 in Western Athletic Conference play.
Sac State head coach Reggie Christiansen said he blames himself for the loss.
"I lost it for our team today," Christiansen said. "We didn't do a very good job with base running in this game. It's one of those games you wish you had back."
Bakersfield got out to an early 1-0 lead in the second inning when catcher Frank Martinez drove in Brockmeyer on a sacrifice fly. The Hornets responded two innings later with an RBI single by junior outfielder Justin Higley and eventually took the lead in the seventh inning when first baseman Rhys Hoskins doubled in Higley.
This was the first game that Hoskins did not bat in the third or fourth spot in the lineup because he has been struggling. He finished the game 1-3 and leads the team with nine doubles.
"Obviously I haven't been hitting very well, so coaches wanted to mix up the lineup," Hoskins said. "Reggie told me he dropped me in the lineup to get more pitches to hit. You can't complain about that."
Mendonca's 7.2 innings were the most he has thrown in a game this year, and despite giving up three earned runs, it brought his ERA down significantly from 7.00 to 5.96.
"I was just trying to go out there and compete for my team," Mendonca said. "I just needed to throw strikes."
The Hornets had a chance to win the game in the ninth inning but the rally stopped when freshman outfielder Nathan Lukes lined into an unassisted double play.
Sac State returns to the diamond on Tuesday, but will have a rare home game away from John Smith Field as it travels down the freeway to Raley Field to take on Fresno State in the Raley Field Classic. 
This marks the first time the Hornets have played at Raley Field since 2003. First pitch will be at 6 p.m.
Ryan can be reached on Twitter at @rskuhn