Women's basketball looks for season sweep of Eastern Washington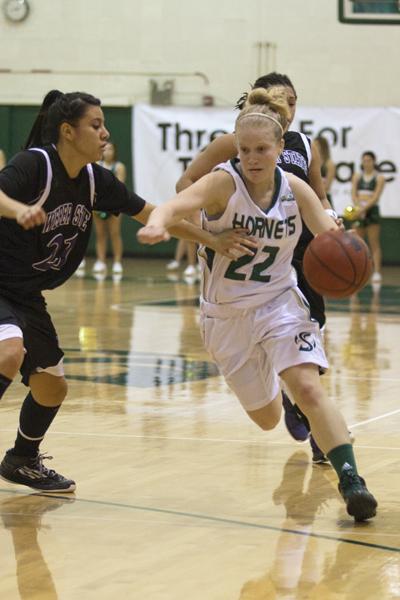 State Hornet Staff
February 7, 2013
Defeating your home court builds confidence – just ask the Sacramento State women's basketball team.
The Hornets, who defeated Eastern Washington, 85-70, at The Nest just last month, now travel Cheney, Wash. for a return matchup against the Eagles tonight at 6 p.m.
In the 15-point victory on Jan. 12, the Hornets were led by junior shooting guard Alle Moreno with 21 points that included three shots from 3-point range. 
But the Hornets have not seen Moreno's offensive production lately.
During the last three games, the junior has struggled, scoring only 9.3 points per game and shooting 25 percent from the field. On Tuesday, she stayed after practice for some shooting practice with assistant coach Jourdan Willard. 
"My coaches know my shot the best," Moreno said. "Jourdan is a great person to get into the gym with and she corrects my shot."
Willard has coached on Craighead's staff for the last two seasons and said she has developed a great repertoire with Moreno.
"I've worked with her ever since she got here," Willard said. "Some players sort of gravitate toward you and we have developed a bond."
Sophomore point guard Fantasia Hilliard also added 22 points against the Eagles, but head coach Jamie Craighead said it is different to play a team for a second time.
"You can't focus on the score of the first game. We respect Eastern (Washington) and they are well coached," Craighead said. "They play really tough at home. We are going to have to play better on the road than we did here."
It has been a tale of two gyms for the Hornets, as they have won eight out of their last nine games at The Nest, winning only four games on the road. 
"We've won on the road and beaten one of the best teams in the conference," Craighead said in regards to her team's win against Montana State on Dec. 20. "We've focused on splits and that's what we have to do. You have two games on the road and you have to come home with one win and that sets us up for making the conference tournament."
With the Big Sky Conference Tournament just five weeks away, the Hornets and five other teams are only separated by three games and each are fighting for a position.
"We have to focus and finish," Craighead said. "We don't listen to outside influences.
Even though there are nine games left, no one has made the conference tournament yet."
The Hornets will have five of their next seven games at home during the second half of the Big Sky. 
Today's game can be viewed on bigskytv.org.
Ryan can be reached on Twitter at @rskuhn