Women's basketball looks for redemption Saturday against Northern Colorado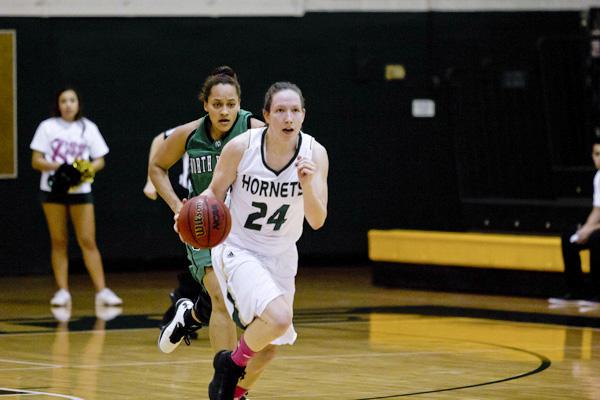 State Hornet Staff
February 15, 2013
The Hornets are looking to put their opponent's seven-game winning streak to an end.
Second-ranked Big Sky Conference rival Northern Colorado is coming to face the Sacramento State women's basketball team on Saturday after beating the Hornets at Butler-Hancock Sports Pavilion on Jan. 26.
Sac State has a 9-1 record at home after their win on Thursday over North Dakota, which pushed the team to a three-way tie for third place with Eastern Washington and Idaho State. 
"Northern Colorado will be really tough," said Hornets' head coach Jamie Craighead. "They're at the top of the conference for a reason. They're only half a game behind Montana, but we owe them one, so we're just going to give our best effort and see what we can do."
Sac State captain and senior forward Kylie Kuhns, who is also the Big Sky's second leading rebounder, said playing in front of their home crowd will definitely give her team an advantage.
"We play much better at home and I know Northern Colorado plays really good at home," Kuhns said. "This league is very home-court oriented, so I think with 'Pack The House,' us at home and the good environment, I think that's what we need."
Northern Colorado is eighth in Big Sky for blocked shots, while the Hornets have senior forward Megan Kritscher to protect the net.
Kritscher is ranked second in the nation with 94 blocks and is only six blocks away from the Big Sky single-season block record.
Northern Colorado also has D'shara Strange, who is third for most steals, tied with Hornets' junior guard Alle Moreno.
Moreno had 17 points, seven rebounds and five steals in Thursday's game and said she is ready for more.
"They're going to come at us hard," Moreno said. "I mean, they're right above us in the standings, so we want to get them and they want to keep us below them. It's going to be war."
Sophomore guard Fantasia Hilliard, Sac State's leading scorer, said her team knows it will not be an easy win.
"It's going to be a really hard game," Hilliard said. "They're going to play their A-game, so we just have to compete and match them at their level."
The Bears are the Big Sky leaders in defensive scoring and rebounding, which is where Kuhns said Sac State's full-court defense will come into play.
"We've been preparing for them coming back and I really think we're just getting better each game right now," Kuhns said. "Our press is what killed us and right now our post player is really good. Our press is obviously working, so I think if we can keep carrying the momentum into this next game we'll be fine."
Sac State will host Northern Colorado for this contest Saturday at 2 p.m. at The Nest.
Jillian can be reached on Twitter at @jillian1035