Sac State capitalizes on six Riverside errors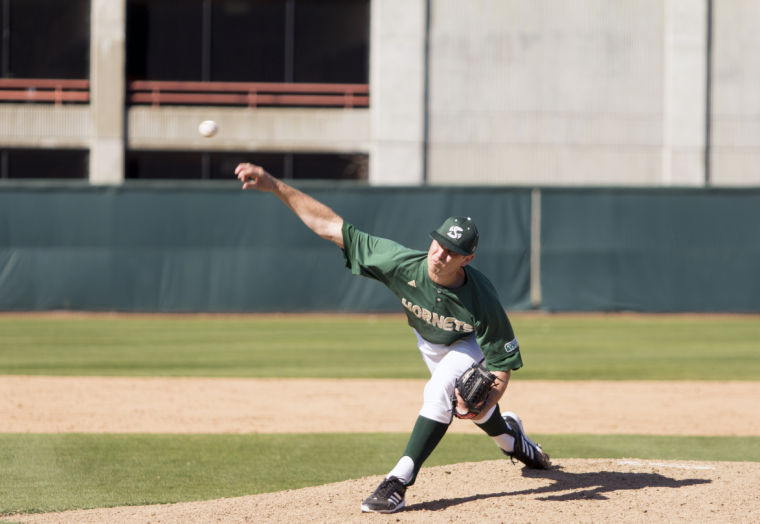 State Hornet Staff
February 24, 2013
Sacramento State's baseball team should send a thank you card to UC Riverside shortstop Alex Rubanowitz for allowing them three runs in the bottom of the seventh inning.
Rubanowitz committed three of the team's six errors as the Hornets rallied to score three unearned runs in the bottom of the seventh inning, leading to a 7-4 win at John Smith Field, Sunday afternoon.
The win split the four-game series with UC Riverside.
"I was extremely proud of how they bounced back after the whole situation that happened on Friday," said Sac State head coach Reggie Christiansen. 
Defending Western Athletic Conference player of the year Andrew Ayers did not play for the third straight game after being suspended for an on-field fight Friday, but the offense picked up right where they left off, scoring a season-high seven runs. 
Although the first four batters finished a combined 2-12, junior center fielder David Del Grande singled in the bottom of the sixth inning to drive in Will Soto and Rhys Hoskins, giving him his fourth and fifth RBIs of the season.
"The thing is, we haven't even got Andrew, Will and Rhys going yet," Christiansen said. I think once we get everyone going, we are going to be an exciting team to play."
During the seventh inning, the Hornets made a move to the bullpen after their starting pitcher, Zach Morgan pitched himself into a bases-loaded jam with a pair of singles and a walk.
He ended up pitching 6.1 innings and gave up three earned runs on five hits and striking out three. 
"It appeared from the first inning that it might turn into a pitching matchup, but with aluminum bats, you never know what is going to happen," Morgan said. "This is something to build on and I just have to keep working. Hopefully by the end of the year I'll be pitching seven strong every time."
After the Highlanders tied the game in the top half of the seventh inning with RBIs by Kyle Boudreau and Clayton Prestridge, the Hornets responded with three runs of their own without getting a hit.
UC Riverside committed four errors, walked two batters and threw a wild pitch that brought in three Hornets to score. Sac State would get one more run one inning later when freshman right fielder Nathan Lukes singled in his second RBI of the season.
Riverside came into the series ninth in the Big West in fielding and now has 23 errors in eight games this season.
Hornets' freshman relief pitcher Sutter McLoughlin pitched 2.2 innings to pick up his first win at Sac State.
"We need to stay motivated," McLoughlin said. "We have a pretty good mindset going ahead and everyone is working, but we need to be more aggressive."
The Hornets return to John Smith Field Tuesday to face former WAC member, University of Nevada. Last year, Sac State took three of four from the Wolfpack. First pitch is at 2 p.m.
Ryan can be reached on Twitter at @rskuhn