National Condom Week raises sexual health awareness on campus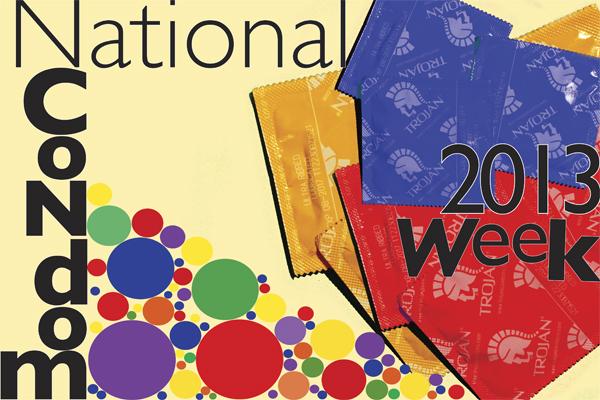 The week of Feb. 14 is not just a profit jackpot for greeting card companies and florists, but a time to recognize the importance of condoms.
National Condom Week aims to raise awareness about sexually transmitted diseases and unplanned pregnancy.
"I fully support National Condom Week," said junior public relations major Steven Macias. "Choices we make today or tomorrow can affect us for the rest of our lives. No glove, no love."
According to the Center for Disease Control, Sacramento County is third in the state for cases of chlamydia and gonorrhea, and fourth for cases of primary and secondary syphilis.
"Condom week is important to look at on college campuses," said health education assistant Amelia Stults. "Especially in Sacramento County because the number of STDs is so high."
At Sacramento State, Condom Week festivities are packed into one day on campus with booths, games, videos, tutorials, free condoms and even a "Cash Cab" driving students to class while they are asked condom trivia questions to earn prizes.
"We are taking our golf cart around decorated like a cab, taking people to their classes and asking them educational questions about condoms," Stults said. "If they get the answer right or close, we do some education and they get a prize like male and female condoms, dental dams and sperm stress balls."
National Condom Week originated at UC Berkeley and is celebrated by universities across the country and Planned Parenthood affiliates. The intended goal of this week is not just to promote using condoms on the lovemaking holiday, but also to encourage the public to educate themselves on condoms and utilize them.
"Condoms are the best thing since sliced bread," Macias said. "They easily fit in your pocket, are readily available at all stores and even in most bars. They protect people from most STDs and from most pregnancy scares. They easily slip on and are flushable."
When discussing sexual health and education, students feel it is important to look at both views: safe sex versus no sex.
For many college students practicing abstinence, Condom
Week may seem pointless because they view sex as good only if you're married.
"Because of my moral beliefs and thoughts, I think abstinence should be taught over safe sex," said senior criminal justice major Melvin Montano. "I don't think people should have sex until they are married because being married is a sign that you are ready for that kind of physical commitment."
Due to varying views on human sexuality, faculty in the Student Health Center are trained by the Gender Health Center and follow the Harm Reduction Program which encourages faculty and peer educators to never make assumptions about an individual's sex life.
"Our job here is not to judge," Stults said. "In the Student Health Center, our main objective is student service so there are no barriers to success, whether academically or personally. That includes educating on and promoting sexual health through Family PACT."
Family PACT is a program that provides clinical services for family planning and reproductive health by providing different forms of contraceptives and STD testing.
The Department of Health Services, Office of Family Planning, administers the program.
Sac State offers several outlets on campus for students to stay up-to-date on sexual health and Condom Week is just one opportunity for the Student Health Center to outreach to students.
"Awareness and education are key," said Dr. Ann Moylan of the family and consumer sciences department. "People see AIDS as more of a remote risk–it's almost human nature to assume it won't happen to them."
Moylan said she wants to see more engagement of students in conversations about safer sex, but feels it should be more specific.
"Sexual health needs to be recognized further than, 'I don't want to get pregnant' or 'I don't want an STD,'" Moylan said. "It doesn't always have to be about major consequences. The emotional risks need to be looked at more in depth."
Sac State's Family Life Education program is approved by the National Council on Family Relations and is taught from three different perspectives: abstinence-only, abstinence-based and comprehensive sexuality.
"Students want to hear someone they can relate to," Moylan said. "That's why in our program it has been most effective to have peer educators: Someone who the students can relate to and feel comfortable talking to. We need to ask ourselves what's going to be effective for that audience and avoid being too general."
There are many risks involved with unprotected sex. Moylan believes if students can become more educated they will be more prepared and by being more prepared, fewer risks are being taken.
"It's the man and the woman's responsibility to have protection," said junior film major Claude Claybrooks. "If you don't have it, you probably shouldn't do it because there's that small percentage that the pull-out method won't work. And if that happens to be you, well, you're f—–."