Hornets force season-high 31 turnovers in win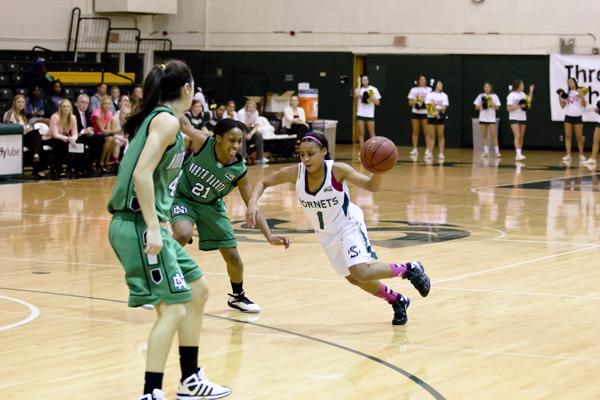 State Hornet Staff
February 15, 2013
With 48 points off of 31 turnovers, Sacramento State took another home-court conference win, this time from North Dakota.
The Hornets' 80-62 win improved their record to 14-9 overall and 9-5 in the Big Sky Conference to bump them up into third place, tied with Idaho State and Eastern Washington. 
Senior forward Kylie Kuhns had the game-high 20 points to compliment her eight rebounds, six assists, three steals and one block. 
"We've never converted that well so far this year, so converting off of that many turnovers and scoring was back-breaking for them," Kuhns said. "That's something we credit ourselves on."
Throughout the game, Sac State used its advantage of open players for passing plays. 
"We just want to be balanced," said Hornets' head coach Jamie Craighead. "We want to take good shots and we want to spread the ball around. (We) had people finishing plays and making baskets."
Both teams were keeping a steady pace until the Hornets broke away with a 14-0 run.
The lead continued as sophomore guard Fantasia Hilliard stole the ball, was fouled and hit both free throws.
"When we played them at their pace, the coach talked a lot of trash.  So we just wanted to prove to them that we're the pressers and aggressors," Hilliard said. 
Hilliard contributed 17 points, a game-high seven assists and three steals. 
North Dakota retaliated and started gaining momentum until the Hornets put them away and came back with another 14-0 run. 
"We don't always play well with a lead, so converting those turnovers into 48 points was what really helped us," Craighead said. 
Sac State held UND at 22 for the final 5:58 of the first half with the help of its full-court pressure defense. 
Junior guard Alle Moreno had a powerful second half with 11 points, four rebounds and three steals. She also made five of the Hornets' seven three-pointers.
"This was a big game for us," Moreno said, who finished with 17 points and seven rebounds. "A lot of people can't handle the pressure. We run, jump and keep rotating like we're supposed to and things are going to fall into our hands."
Sac State found its largest lead of 24 points off of another turnover with 15:04 left in the game. 
North Dakota's Emily Evers put up a fight with 17 points as she stood the tallest on the court at 6-foot-5. 
The Hornets went on to beat North Dakota for the second time this season, which pushed their home court record to 9-1. 
Sac State will host second-ranked Big Sky opponent Northern Colorado at The Nest on Saturday at 2 p.m. It is the Pack The House game 
Jillian can be reached on Twitter at @jillian1035