Hornets finish off EWU with late run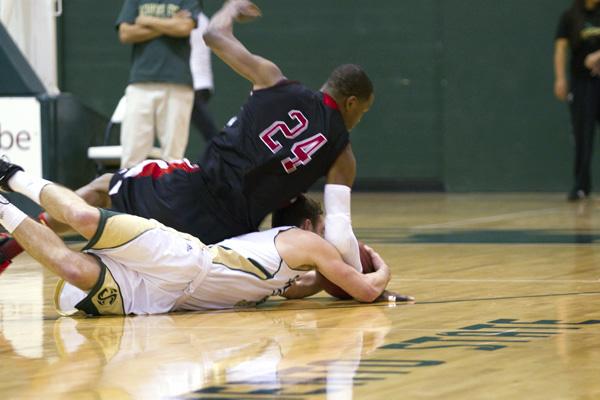 The Sacramento State's men's basketball team snapped it's two-game losing streak as it defeated Eastern Washington, 61-55, on Thursday at The Nest, fueled by the strong roars from the home crowd.
The Hornets (11-10, 6-7) converted on their free throw opportunities late in the game, which prevented the Eagles (6-17, 4-9) from snagging a victory away. 
"I feel like we let leads (because it's) more about defending in the second half," said Sac State head coach Brian Katz. "In the first half, we had our teammates screaming and yelling, (but) in the second half we were down their alone. I stood at the other end and started yelling 'communicate' because I was tired of the stuff I was seeing."
After a sluggish shooting performance in the first half, the Hornets managed to go into halftime with a 29-27 lead, despite the inability to score a basket in the last four minutes.
But in the second half, senior forward John Dickson and sophomore point guard Dylan Garrity got the ball rolling for the Hornets. 
Garrity finished with a game-high 15 points and six assists, while Dickson ended with 13 points and five rebounds.
The Eagles crept closer at the 11-minute mark of the second half, when forward Collin Chiverton hit two 3-pointers, giving them their first lead of the game, 42-41. 
Chiverton led Eastern Washington with a team-high 12 points.
Moments later, the Hornets were able to answer back after a two-handed slam dunk by Dickson not only sparked the 17-7 run, but also ignited the hostile crowd. 
"We were switching on ball (screens), and they were posting our guards," Dickson said. "I got caught a few times helping too much and they were wide open for threes. The dunk felt really good and the hype of the crowd helped out a lot." 
Sac State was able to create separation from Eastern Washington with some defense.
Senior forward Joe Eberhard's one-handed block with under five minutes left in the game led to a three-point play for the Hornets on a drive to the basket by sophomore guard Mikh McKinney that gave the Hornets the lead, 49-48.
On the ensuing position, Garrity hit a 3-pointer that extended the lead for the Hornets, 52-48, with 4:31 left. 
"We showed some real resiliency defensively," Katz said. "We haven't been a very good second-half defensive team lately. We had a lot of leads slip, but not tonight."
As a team, the Hornets shot 18-45 from the field, 5-18 from 3-point territory.
Sac State returns to The Nest at 7:05 p.m. on Saturday when it hosts Portland State.
Gabe can be reached on Twitter at @sh_sports