Hilliard close to quadruple-double in Hornets' win over SUU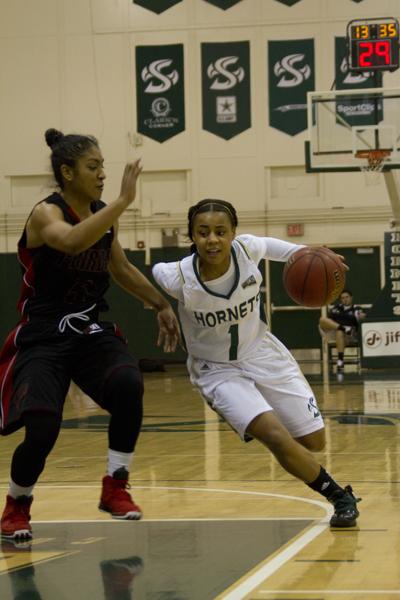 State Hornet Staff
February 2, 2013
It is sometimes said the biggest gifts come in the smallest packages. 
Sophomore guard Fantasia Hilliard, standing at 5-foot-3-inches, led the Sacramento State women's basketball team to a 93-86 home-court win over conference opponent Southern Utah, Saturday afternoon at The Nest. 
"At their place, we just couldn't put things together and I felt like we could do that here at home," said Sac State head coach Jamie Craighead. "I felt like we could beat them. They're a very good team, but so are we." 
Southern Utah (10-10, 5-5) defeated the Hornets (12-8, 7-4) Jan. 5 at Centrum Arena, but the Hornets did not give up another win on their home court and extended their record to 8-1 at The Nest.  
"We're actually establishing a home court advantage and I think that's really important," said senior captain Kylie Kuhns. "If we can protect the rest of the conference games at home, we'll be in a really good position at the end of the year."
Hilliard was the smallest player on the court, but the Thunderbirds could not stop her fast-break shots. 
"She plays hard all the time, but sometimes she gets it going and she's really hard to stop," Craighead said. "Her quickness and her speed make it difficult to stay in front."
Hilliard's 16-point first half looked promising for a new career-high, which she accomplished, along with a double-double as she ended the game with 24 points, 10 assists and eight rebounds. 
"She did a great job of controlling the game," Craighead said. "She was the x-factor today for us."
The game started off rough for the Hornets as Kuhns fouled less than 10 seconds in to the game. 
Senior forward Megan Kritscher put Sac State on the board, but the energy of the Thunderbirds was overpowering at the start of the game. 
Southern Utah set the tone, but the Hornets found their way through field goals from Hilliard, Kuhns and junior guard Se'nyce Parrish to give the team its first lead of game.
Sac State started picking up the pace with 10 minutes left in the first half and maintained a smooth lead, which extended through halftime, setting the score at 48-40.
The Thunderbirds came out of the locker room ready to play and threatened the Hornets, 55-53, to regain the lead. 
Sac State was down by only one point with just over 12 left to play when Parrish hit a free throw to tie the game at 61-61.
Kuhns and Parrish continued the lead with scoring drives and Hilliard hit a jumper to break her old record of 22 points. 
"It feels really good and really unexpected," Hilliard said. "I just feel motivated. I'm not even worried about my stats; I just want to keep going and keep winning and keep making history."
Kuhns added another double-double to her season total and was just two assists away from a triple-double, finishing with 11 points and 13 rebounds. 
"It was really aggressive and physical the whole way through," Kuhns said. "When you win, it is an environment I like to be in. It's that college atmosphere and intensity. It was a really fun game to play."
The score during the last 10 minutes was too close for comfort – it could have been either team's game at any given moment.
"After our last run we established that this is our home and put the game away," Hilliard said.
With 30 seconds left to play, the Hornets led by only four points until junior guard Alle Moreno was fouled and hit both free throws, giving Sac State a comfortable margin with less than 30 seconds remaining. 
"We're well on our way and we just need to take it one game at a time and do our best," Craighead said. 
The Hornets will travel to Eastern Washington to face the Eagles on Thursday at 6:05 p.m. at Reese Court. 
Jillian can be reached on Twitter at @jillian1035 and follow State Hornet Sports at sh_sports.