Get creative with heart cookies for Valentine's Day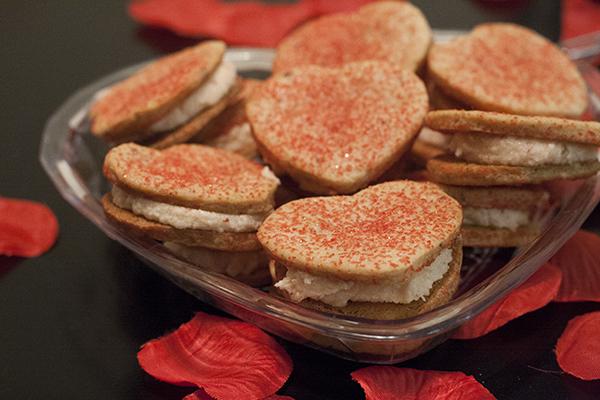 My mom has always been my No. 1 Valentine. Every year since I was young she would never fail to surprise me with chocolates after a long day of watching young girls at school receive flowers and candy from their "boyfriends."
As much of a dread as it was to watch my crushes give "I like you" imprinted Sweethearts to other girls every year, it was also beneficial because it taught me how to use my creativity and perceive Valentine's Day in a different way. Instead of worrying about whether or not little Bobby was going to be my valentine, I occupied myself by bedazzling paper hearts, drenching my hands in glitter glue and perfecting illustrations of cupid with colored pencils and markers.
To me Valentine's Day is not about having someone – although it is nice – but it is about making others feel special whether they are lovers or not.
Although I don't have as much time to spend days in my room making personalized Valentine's cards for every wonderful person in my life, I can easily spend a few hours in the kitchen baking up a batch (or many batches) of these sweet cream-filled heart sandwich cookies.
Strawberry Heart Cookies
2 cups all-purpose flour, plus more for parchment
1/2 teaspoon baking powder
1/4 teaspoon coarse salt
½ cup vegetable shortening (or butter)
1 cup sugar
1 tablespoon ground flax
3 tablespoons warm water
1 teaspoon vanilla extract
1/4-1/3 cup of pureed strawberries
Cream Filling
½ cup butter, softened (I use Earth Balance)
1 1/2 cups confectioners' sugar
1/4 cup granulated sugar
2 teaspoons pure vanilla extract
1 to 2 tablespoons pureed strawberries
These cookies might not be the best for you, but they are darn good, inexpensive and easy to make. Vegetable shortening, such as Crisco, is an excellent replacement for butter – especially if you're vegan like me and don't want to spend loads on the fancy stuff – and will give every cookie that fattening, I-shouldn't-be-eating-this flavor you long for. You can even use it for the cream filling in this recipe if you would like.
If you would rather use all the "real" stuff for this recipe, such as butter and milk, because you're scared these cookies will be gross and don't believe anything vegan could possibly be as delicious as the "real thing," go ahead and replace the vegetable shortening with butter, the flax mixture with eggs and the almond milk with whole milk. Let me tell you, though, these cookies will be delicious either way.
Combine flour, baking powder and salt and set aside.
In a cup, combine 1 tablespoon ground flax with 3 tablespoons warm water and allow to sit for a few minutes until the mixture is of a gel consistency. This mixture will provide binding and leavening to your cookies – just as eggs would in other baked goods – and it works superbly.
In a medium bowl, cream together vegetable shortening and sugar with a fork (or a mixer) until the mixture is creamy and fluffy. Slowly beat in vanilla and flax mixture (or an egg).
Gradually add flour mixture to wet mixture until thoroughly combined. The dough will be a little crumbly but don't worry – the strawberry puree will fix that.
Start by adding ¼ cup of strawberry puree, kneading the dough with your hands until it sticks together well. If the dough is still too crumbly, add more strawberry puree one tablespoon at a time. Be sure not to add too much puree, as the dough can get too sticky and you won't be able to roll it out when it comes time to cut out the heart shapes.
Powder your hands with flour and divide the dough into two balls. Flatten the balls down a bit with your hands until each takes a disk form. My disks came to have diameters of about 4 inches and heights of 1-2 inches. Wrap the disks in plastic wrap and refrigerate for about an hour or until firm.
When the disks have become firm in the refrigerator, allow them to sit at room temperature for about 10 minute before removing from plastic wrap and rolling out.
Preheat oven to 325 F.
Roll out each disk between two sheets of lightly floured parchment paper to ¼-inch-thick pieces, adding flour as needed to prevent dough from sticking to the parchment paper.
Remove the parchment paper and start cutting out your cookies with heart-shaped cookie cutters. Be sure not to waste any dough – once a flat of dough has hearts punched out of it, gather it back into a ball, roll it out again and try to get as many more hearts as you can get out of it.
Lay all hearts out on parchment paper on a baking sheet and place in the freezer for 15 minutes, or until they are firm.
Bake until each heart cookie is slightly golden brown around the edges, about 10 to 12 minutes. Allow cookies to cool completely after taking them out of the oven.
Prepare the cream filling. Cream the butter, sugars and vanilla with a fork until the mixture is of a smooth, frosting-like consistency. If the filling is too thick, add 1-2 tablespoons of strawberry puree until it is spreadable.
Spoon 1-2 tablespoons of cream filling mixture on half the batch of cookies and gently sandwich them with remaining dry cookies.
Deliver these cookies wrapped in a bit parchment paper and ribbon and you're bound to be loved forever. Actually, what the heck – why not keep them for yourself and devour them with pride as you watch "The Notebook" alone on Valentine's Day. The cute girl from the fourth grade might have little Bobby wrapped around her finger, but she probably doesn't have these sweeties to melt in her mouth when he goes home at the end of the night.
Janice Daniels can be reached at [email protected]