Freshman Demps honors tradition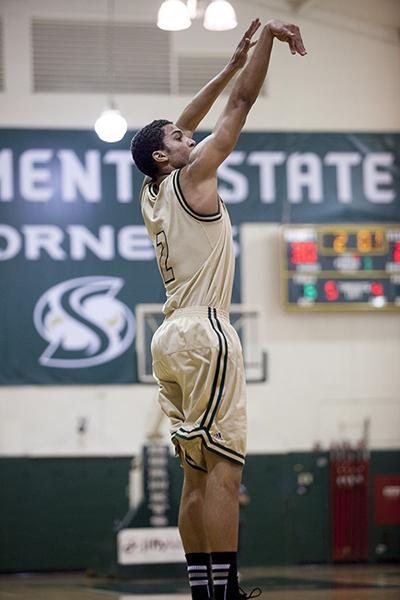 The tradition of Sacramento State runs deep in the bloodlines of Hornets' freshman guard and forward Cody Demps.
Demps, an engineering major, is the son of two former Hornets: Chris and Beth Demps. His father was a defensive lineman for the Sac State football team from 1984 to 1986, but the bloodline does not stop there.
As a 2012 graduate of Pleasant Grove High School in Elk Grove, Cody Demps excelled as a two-sport athlete in both basketball and as a quarterback for the Thundering Herd.
He found himself amongst the company of two Hornet alums: John DePonte – who was Cody Demps' basketball high school coach – and assistant coach Bill McCoin. McCoin played basketball for the Hornets from 1988 to 1991.
It only seems fit for the 6-foot-4 true freshman to be suited one day in a Hornets jersey.
"It's a great sense of pride to see him play," said Chris Demps. "The choice was always his of what he wanted to do and where he wanted to go."
During his final year in high school, Cody Demps received notable interest from the University of San Diego and also took an official visit to Columbia University, before making his decision to follow in the same footsteps as his parents and coaches.
"I definitely wanted to play Division I basketball," Cody Demps said. "Also, both my parents went here, so they definitely told me how much they liked the school, so I trusted their opinions."
Chris Demps said the coaching staff played a big role in convincing Cody to play at Sac State.
"It is funny. The key word when we finally talked to coach Katz was 'transparent'," said Chris Demps. "There is nothing to hide and they are who they say."
Since his arrival at Sac State, Cody Demps has found himself in no better environment and relationship equivalent to the one he receives from his teammates – who have made his first year of college a lot easier.
"I like it a lot. I like the team chemistry," Cody Demps said. "Coach talked about maybe past years they didn't have much of a team bounding, but I feel like we are really devoted to each other as a team."
With the Hornets in contention to make a run at the Big Sky Tournament this year, Cody Demps has had an active role in the way he is utilized coming off the bench for head coach Brian Katz, by averaging 12.4 minutes a game.
Katz said the level of confidence Demps plays with has been the key aspect of getting him more attention in practice and having an active role in logging minutes come game time.
"I have said all along he doesn't play as a freshman. I don't even look at him that way," Katz said. "He plays like a junior or senior. He has real good confidence in himself and really believes he can excel in what we ask him to do."
Cody Demps said the work ethic his father instilled in him at a young age has contributed to a lot of the success he is seeing as an athlete and also has helped him mentally stay prepared.
"The game you play always speaks for itself. My dad taught me that from a very young age," Cody Demps said. "I am often goal-oriented and my main goal was to definitely play and have an impact on the team. Me and Dreon (Barlett) like to shoot almost after every practice to hone in on our skills."
Demps' 185-pound frame allows him the ability to guard multiple positions when faced with having to rotate defensively with his teammates.
His speed and skill level in handling the basketball has made Demps a threat in the open-court creating havoc for the opposing team.
"I feel like there is a big difference between high school and college basketball," Cody Demps said. "The game is faster. I think strength plays a lot into it. Being able to lift more has helped me."
As each game down the stretch become increasingly important for the Hornets to win, Demps said he plans on making sure he remains focused in what the coaches and teammates ask him to do.
"I am just going to go (out on the court) and provide defense and bring energy wherever it is needed," Cody Demps said.
Gabe can be reached on Twitter at @sh_sports