Try this healthy snack alternative to fast food fries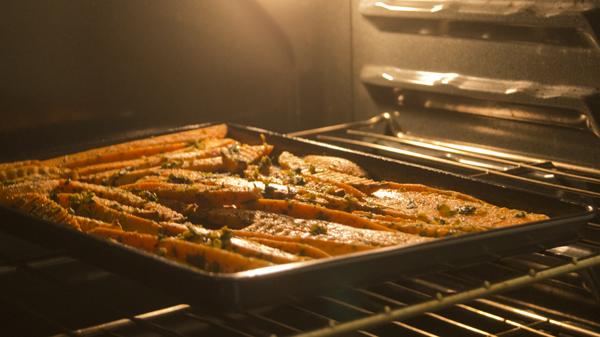 The smell of russet potato fries – or "papas" as my mom called them – frying over oil in a hot cast iron pan will forever be ingrained in my mind. I can remember waking up to the smell like it was yesterday, always knowing it meant there was also going to a side of eggs and chorizo, and maybe even some toast if my dad was feeling giddy enough to help my mom out that morning.
My mom wasn't the main cook in the house – which is a shame because she is an excellent cook – but when she did cook she made mind-blowing, yet simple dishes such as Spanish rice or russet potato fries slathered in olive oil, garlic, and other spices. Let me tell you, these fries certainly beat the time-consuming, mush-of-a-lasagna my dad often served us kids for dinner (sorry, Dad).
With guidance from my Mom, I feel like I have mastered the art of making "papas" and have added a few nifty changes of my own. Instead of using russet potatoes I like to use sweet potatoes due to their excellent nutritional value which includes 35 percent of the recommended daily value of vitamin C and 380 percent of the daily recommended value of vitamin A. I personally think they taste better, too.
Instead of frying the potatoes, I usually take the healthier route and roast them in the oven with a tad of olive oil rather than frying them and they always taste just as good as the ones my mom used to make. The combination of flavorful seasonings and garlic is key in this recipe, as it is the same combination my mom used for her potatoes. Not only does it jazz up the starchy vegetables, but the smell also makes me feel like I am a child again, with Tinkerbell pajamas, poofy frazzled hair and all.
Sweet Potato Fries with Herbs
5-6 small sweet potatoes, peeled
½ teaspoon salt (or to taste)
3 tablespoons olive oil
4 cloves garlic, finely chopped
2 teaspoons dried dill
1 tablespoon garlic powder
1 teaspoon cornstarch
¼ teaspoon Mexican chili powder (or any other chili powder)
2 tablespoons fresh parsley, minced
Preheat oven to 450 F.
For easy peel removal, place the potatoes in a bowl of ice cold water for 5 to 10 minutes.
Cut the potatoes into 1/4-inch-thick sticks, keeping the length from the potato. Place in a medium bowl and toss with olive oil, parsley and chopped garlic. Warning: these fries will be super garlicky, so if you aren't a big garlic fan then feel free to use as little (or as much – I love garlic) as you prefer.
In a small bowl combine salt, dill, garlic powder, chili powder and cornstarch. Next, toss the spice mixture into the bowl of oiled fries and toss lightly with your hands (or use a spoon if you're scared to get your hands dirty). If you have a bowl with a lid, it also works to place the lid on the bowl and shake the mixture around.
Spread these lovely, aromatic potatoes on a greased or lined baking sheet, in a single layer, and bake for 20 minutes or until they are crispy and golden brown. Let cool 10 minutes before serving to friends and family.
After giving these homemade fries a whirl I am certain you will never look at fast food fries the same again. Besides, who doesn't like a little bit of healthy in everything they eat? Enjoy these babies with a side of Sriracha sauce for dipping and a nice cold beer – after one bite you just might think there is a god if you didn't think so before.
Janice Daniels can be reached at [email protected]