Spice up a party with buffalo chicken poppers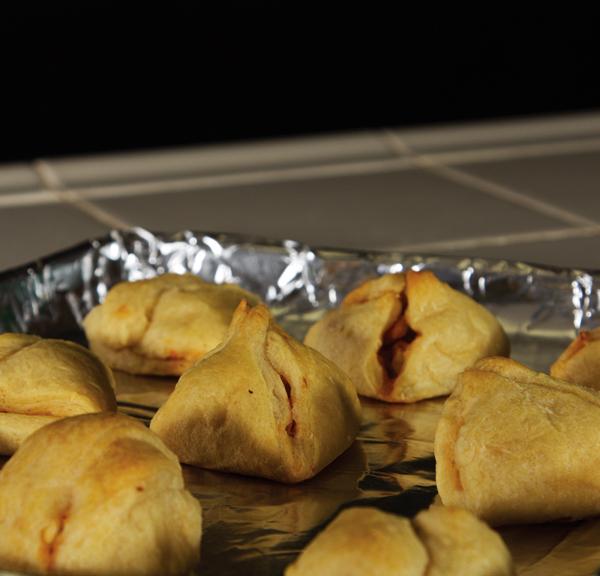 As Super Bowl XLVII comes to grace hardcore football fans with its presence this Sunday, many coffee tables will be converted to a field of appetizing snacks.
Buffalo chicken wings, pizza and seven-layer dip are three staples seen at almost every get-together.
According to the National Chicken Council, Americans are expected to consume 1.25 billion chicken wings on Super Bowl Sunday.
Although buffalo chicken wings are the ideal Super Bowl snack and can hit the spot for those with cravings for tangy, hot sauce-laden chicken, there's one problem: they are a notch below ribs when it comes to the messy eating factor.
Buffalo chicken wing poppers are an ideal snack for those who don't want to spend a good amount of time going full-on beast mode trying to get all the meat off the bones or constantly wiping off buffalo sauce from their face and fingers.
Buffalo Chicken Poppers
1 can of 8-count crescent roll dough
6 pieces of cooked chicken breast strips
3 teaspoons ranch dressing package (split in half to season the chicken and to add to the cream cheese)
4 ounces of cream cheese
3-4 tablespoons (or even more if your heart can take it) of Frank's Red Hot Wing Sauce or any buffalo wing sauce you prefer.
Mince the chicken strips. Take 1 ½ teaspoon of ranch dressing mix and mix with the chicken. Set aside for a couple of minutes to allow the meat to absorb the flavor.
In a bowl, combine the other half of the ranch dressing mix with cream cheese.
After the meat has absorbed the dressing, mix in the hot sauce.
To open your can of crescent rolls, mentally prepare yourself for the loud, popping sound. Get scared for a nanosecond after the can pops. Clean yourself up.
Since the poppers are bite-sized, cut each piece of rectangular-shaped dough in half. To cut it, take a pizza cutter and cut diagonally across. After slicing the dough, there should be 16 pieces of triangle dough.
Take a teaspoon of the cream cheese and spread on a piece of dough and then the same amount of the chicken mixture.
To fold up the poppers, fold each corner up together and pinch it closed. Some of the sauce may leak out of the pockets, but that's OK.
Preheat oven to 375 F and allow the poppers to bake 12 to 15 minutes until they're golden brown.
The good thing about these poppers is that the recipe can be changed depending on preference. Add in some green onions or chives to the cream cheese for a refreshing flavor if ranch dressing mix isn't your thing.
To enjoy, the poppers can be dipped sauces like bleu cheese or ranch dressing.
With the mess factor significantly reduced, viewers can now pay more attention to the game or Beyonce's fabulous halftime show.
Camille Anglo can be reached at [email protected]