Sac State pulls out a win despite poor free throw shooting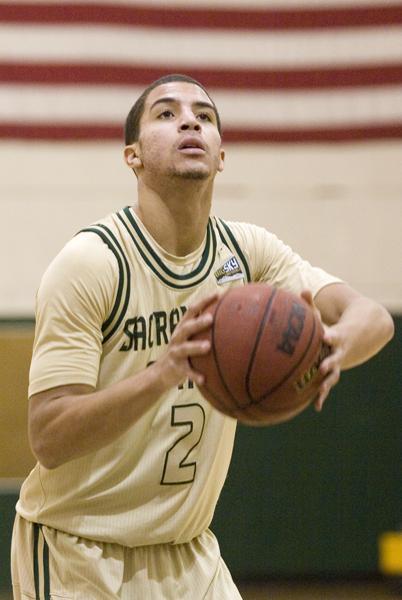 State Hornet Staff
January 8, 2013
Sacramento State's men's basketball team can usually shoot well from the free-throw line. That is unless the Hornets are playing Southern Utah University.
Coming in, Sac State shot 72 percent from the free-throw line, but missed a season-high 20 free throws in the second half to see a once 12-point lead dwindle down to a 64-59 win against the Thunderbirds.
The Hornets' sophomore guards Mikh McKinney and Dylan Garrity have shot a combined 88 percent from the line all season, but in the second half, they made 12 of their 23 attempts.
"I just don't know what to say," said Mikh McKinney, who finished with 18 points. "Tomorrow each one of us will definitely work on our free throw attempts. We have to make those. Luckily we were playing good defense at the end of the game."
But despite shooting a poor performance from the charity stripe, their head coach Brian Katz said he is not worried. 
"These guys who were missing the free throws are great shooters," Katz said. "Dylan and Mikh are almost 90 percent free throw shooters and I was trying to tell them to not let (Southern Utah) score. If you don't let them score, you don't have to make free throws."
The Hornets started the game on a 12-0 run before the Thunderbirds scored their first basket with 13:10 remaining in the first half. Sac State would eventually increase its lead to 21-6, but would watch as Southern Utah finished the half on a 20-8 run. 
Frustration got the best of some Hornets as senior forward John Dickson picked up a technical foul and senior center Konner Veteto was called for his third foul in the first half. 
"They were throwing some cheap shots and the refs were only picking up on the reactions," Garrity said. "We just had to keep our cool and be ourselves."
In the second half, the Thunderbirds kept the game close with key shots from guard Jackson Stevenett, who scored 24 points and grabbed 12 rebounds before the Hornets eventually pulled away.  
"We showed a lot of character," Katz said. "In the past, we would have lost that game. Now we have some seasoned guys and if you can shoot free throws that badly and still win the game, you have to be proud of your guys."
The Hornets will travel to Portland State, Eastern Washington, Weber State and Idaho State before returning to The Nest on Jan. 24.
Ryan can be reached on Twitter at @rskuhn