World Aids Day helps spread awareness among students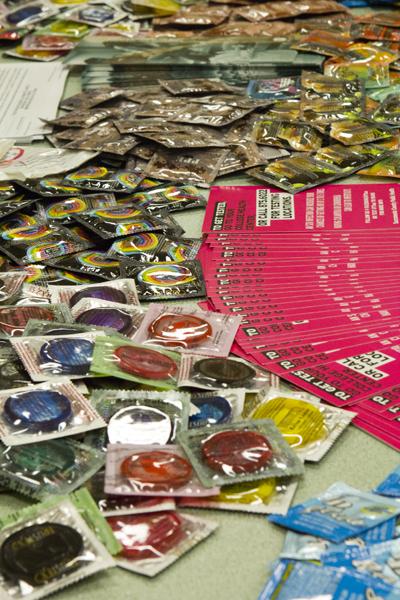 The Pride Center at Sacramento State in collaboration with CARES, or Center for AIDS Research, Education and Services, hosted daylong events to spread awareness for World AIDS Day on Wednesday in the University Union.
Pride Center coordinator Rachel Hogue said although World AIDS Day falls on Dec. 1 every year, this is the first time Sac State has recognized World AIDS Day by hosting many events.
"In honor of World AIDS Day, we will be having several events going on throughout the day, Hogue said. "(There will be) 20-minute rapid, confidential, HIV/AIDS Testing done by CARES, an HIV/AIDS Health Fair co-sponsored by the sexuality and reproductive health peer health educators, the 'Safer Sex Workshop' presented by Patty Woodward and co-sponsored with the Women's Resource Center. Lastly, an HIV/ AIDS Education and Research Panel will discuss the past, present, and future of HIV/AIDS education and research."
Graduate student Amelia Stults said she is glad the Pride Center pushed to promote World Aids Day on a larger scale this year.
"I think it's great that the Pride Center really spearheaded this and I think it's great that we're celebrating as a campus," Stults said. "It helps to show that we're bring something to light so that there's less stigma associated with HIV and AIDS"
Elizabeth Velasco, a peer advocate and volunteer for CARES, said the confidential HIV testing event helped promote the importance of getting tested for HIV/AIDS once a year.
"It's really positive and really reinforcing to avoid the stigma that (getting an STI) can happen to anyone," Velasco said. "It's not one set person. It (can happen to) gay, straight, older, younger and teens and married couples."
Stults said students have welcomed the daylong events and feels students are more open to learning how utilize safer sex practices.
"The reception has been of interest with the campus and the community entities," Stults said. "It seems like students are interested in learning more and are actually pretty eager to get tested."