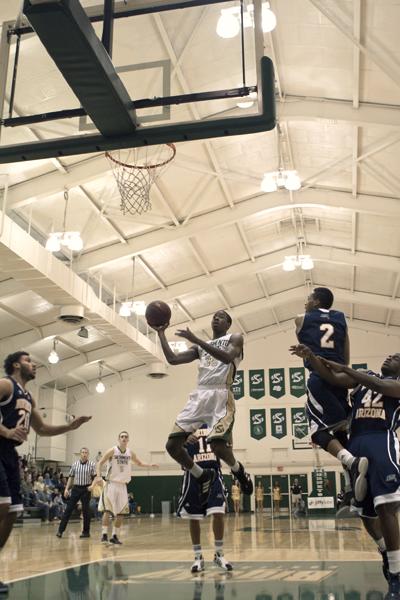 The Sacramento State men's basketball team dropped a contest on the road against San Jose State tonight.
The Hornets 62-57 loss came in the final game before conference play begins next week.
Despite San Jose State shooting only 31 percent from the field, Sac State could not seem to put the Spartans away.
The Hornets were ahead by as many as 12 points in the game, but poor shooting at the free throw line allowed San Jose to climb back in.
Two of the Hornets leading scorers, Mikh McKinney and Dylan Garrity, struggled shooting the ball most of the night.
Garrity had been 2 for 11 shooting before hitting two-straight 3-pointers down the stretch. Garrity finished with 12 points and eight assists.
McKinney was unable to get it going at all. He shot a season low 1 of 13 and finished with only five points.
"I was actually getting good shots," McKinney said. "I took shots I would normally take and shots coach (Katz) wants me to take. Pretty much it was just a horrible performance on my end."
McKinney is from Union City, a 30 minute drive from San Jose. He had friends and family in the crowd who were getting the opportunity to see him live in a Sac State uniform for the first time.
"As much as I tried to tell myself there was no pressure, I ended putting a lot of pressure on myself to play well," McKinney said. "In a way I let down a lot of people tonight starting with my team and ending with all the people who came to watch me play tonight."
Two bright spots for the Hornets were senior John Dickson's 16 points and the team only had eight turnovers.
In the end the Hornets could not stop one of the Nations top rebounders. Chris Cunningham went off for a double-double with 10 points and an impressive 17 rebounds.
Sac State was out rebounded 59-34 including 24 offensive boards for the Spartans.
The Hornets open Big Sky Conference play on Wednesday against Montana State. Game tips off at The Nest at 7:05 p.m.
Joe Davis can be reached on twitter @famousjoe530.