It's the Hard-Knock Life for us: New graduates find themselves overqualified, stuck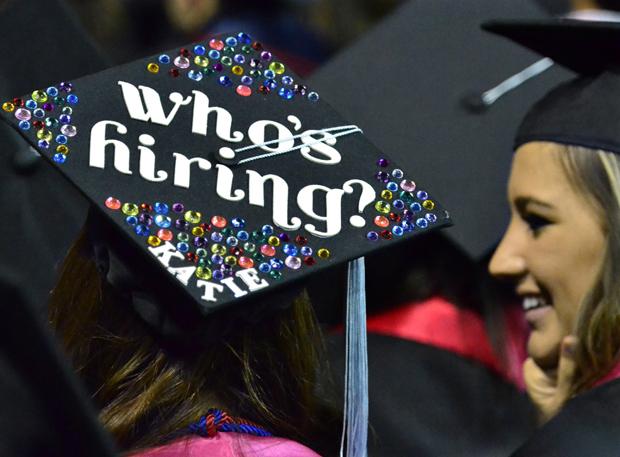 After several years of higher education, more than 260,000 college graduates worked in food service, retail and personal service industries in 2011, according to the U.S. Census Bureau.
The numbers continue to rise.
Since 2010, 46 percent of adults from ages 18 to 24 are unemployed and 49 percent said they have taken a job they did not want or were overqualified for just to pay the bills, according to the U.S. Bureau of Labor Statistics.
Government senior Vance Jarrard said more students each year are working jobs they are overqualified for or moving back home with their parents.
"We see an increase of students who go straight into a master's program because they know there isn't a job waiting for them with just a bachelor's degree," Jarrard said. "I don't see the job market as a whole improving over the next four years."
While some students have a job lined up for them after school, many are filling out application after application and working behind a register to get by. Some grads may spend as much time searching for a job as they did putting in the time to earn their degree.
"Since December of last year, I have applied to seven places ranging from newspapers to TV networks and radio stations," said Sacramento State alumnus Erik Puleo-Coats. "I have only heard from one, maybe two places, and both told me they were not hiring."
With job prospects at an all-time low, the pressure is on for grads expected to begin paying back student loans after their a six-month grace period after graduation has ended.
For some students, the job market is not as big of a concern. These are the students who worked while attending school or participated in an internship that leads to a full-time position.
According to the United States Department of Labor, 35.1 percent of students enrolled full-time at a university work one or more side jobs while going to school.
History senior Brittany Leland said working in an internship helped set her up with a post-graduation job.
"I thankfully have a job lined up after I graduate this December," Leland said. "I was blessed to get an internship this summer that ended in a job offer. Unfortunately it is not within my major, but not many jobs are available for history majors."
Being employed in a student's field of study, or having employment lined up after graduation is necessary in today's economy, but students still struggle to find jobs that will put their degree to use. Some degrees offer more opportunities than others. According to the U.S. Census Bureau, graduates who majored in education, health care, business and professional services have the most stable employment, and grads with degrees in health care and education are more likely to land a job than grads with degrees in computers and math.
In the past, the lower level jobs went to those who had lower skill or education levels. The problem with college grads taking menial jobs after graduating is it affects the job market for people without a degree that look for jobs in food service or retail. According to the U.S. Census Bureau, this has a ripple effect: people with only a high school diploma can't compete for lower-level jobs, such as secretarial positions or sales representatives, when other applicants have a college degree.
"The job market is tough for new college graduates," said department chair and professor of economics Suzanne O'Keefe. "But it is much better for college graduates than it is for people without a college degree. The national unemployment rate for college graduates is 3.8 percent, while the rate for high school graduates is 8.4 percent, and for people with less than a high school degree, 12.2 percent."
The job market in 2012 has improved, but unemployment and underemployment remain much higher today than in 2006. More people without a college degree are losing job opportunities and college grads are taking jobs below their skill level and unrelated to their degree.
"If I had to work a job unrelated to my field of study and below my qualifications, I would be extremely frustrated," Jarrard said. "It is always a shame to have skills and knowledge and not be able to put them to use."
Because of the current state of the economy, students should start preparing earlier and more rigorously prior to graduation. The Sac State Career Center is an outlet on campus students should take advantage of.
"Students should plan as early as their junior year to get work experience," said director of Academic Advising and Career Center Beth Merritt-Miller. "They need to be looking their entire senior year, not just the semester before (or) wait until after they graduate. Looking for full-time professional work takes several hours a week and lots of preparation. The Career Center staff can help students with the steps they need to take to do a successful job search."
Merritt-Miller said there are jobs out there. But students need to realize that looking for and finding professional work takes time. Merritt-Miller said she also encourages students to look for opportunities early in college to gain experience.
"The market is not likely to be as robust in the next several years as it was in 2006," Merritt-Miller said. "Employers are more prudent in their hiring practices now. Students need to be looking early for opportunities in their field and should look for internships related to their interests to get work experience before graduation."
Natalie Gray can be reached at [email protected]