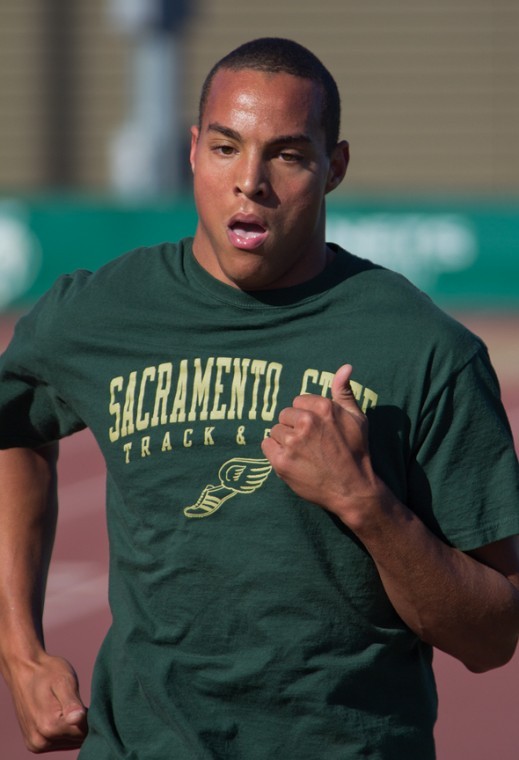 Track and field is truly a year-round sport.
The Sacramento State men's and women's track team has been preparing for the 2013 track and field season since September, training roughly 20 hours per week.
"We train outdoors all year long," said head coach Kathleen Raske. "It is a positive asset for our team."
The new season will usher in a different looking track and field team – 34 freshmen, including transfer students. The men's team is loaded with veteran upperclassmen while the women's team is composed of mostly underclassmen.
"Our theme this year is 'A New Chapter'", Raske said. "They (athletes) are very anxious to get out there and compete. Our number one goal is to win the Conference Indoor and Outdoor Championships."
The track and field team includes a wide array of athletes who perform in different events – throwers, jumpers, pole-vaulters, sprinters and distance runners.
After recently completing the 2012 cross country season, junior distance runner Reesey Byers said he is already training for the upcoming track season by incorporating high mileage into his schedule to build a strong base.
Byers said he wants to run 90 miles per week in December and January.
"I am excited to get back into running and being consistent," Byers said. "Hopefully if everything holds out, it will be a good season."
On top of the easy runs, Byers said he also plans to integrate tempo runs, core workouts and weights into his training regimen.
Competing on the track is something he looks forward to after recently finishing the cross country season, Byers said.
Last season, Byers placed fourth at the Big Sky Championships in the 5k with a time of 14:15.91. He also broke the school record in the indoor 3k at the Husky Classic with a time of 8:11.25.
Senior sprinter Justin Nesbitt has been preparing for the upcoming track season since summer by working out at the gym, running at night and incorporating distance runs on the weekends.
"I plan on doing the same this upcoming winter break to make sure my body is ready for the long season," Nesbitt said.
Last season Nesbitt scored in two events – the 200 and 400 – at the Big Sky Championships. He recorded his best time in the 400 with a time of 48.76, placing eighth at the meet.
With a long track season ahead, Nesbitt said the goals of the season are to stay healthy and to win the Big Sky Championships.
"The men's team this year is such a special tight group," Nesbitt said. "Our sprinter group is young so they are fired up to get that ring. Personally, I would like to break the indoor 200 record."
Nesbitt ranks third in school history in the indoor 200 with a time of 21.81.
With a new season come hopes and expectations. For Hornet track and field athletes, growth is the key.
"Our team theme is 'A New Chapter'", Nesbitt said. "Planting new words on these pages as our team continues to grow is amazing. This first chapter has 'championship season' all over the pages because we all believe in each other."
James Heck can be reached at [email protected]