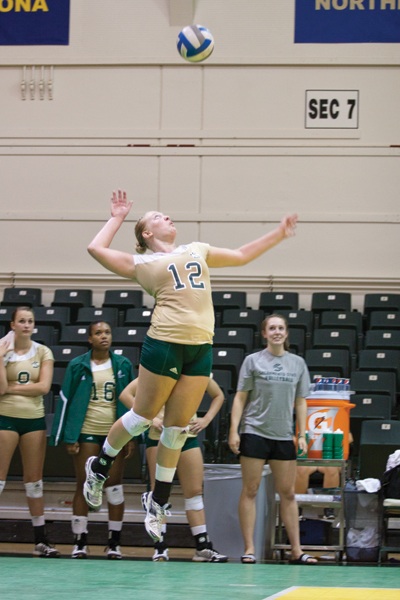 Joseph de Ocampo
Despite three consecutive wins in the final matches of the Hornet's volleyball season, Montana State's victory over Montana officially knocked Sacramento State out of the Big Sky Tournament.
"Being so close to making the Big Sky Tournament was devastating," said opposite hitter Kayla Beal, a junior civil engineering major. "We worked really hard toward the last part of the season to give ourselves a chance to make it."
The season ended with an overall 12-18 record and an 8-12 league record. The team had a rough start and had to step its game up to have a chance at a spot in the postseason tournament.
However, regardless of the outcome of the Hornets' last game, their spot in the playoffs was dependent on the records of other teams. If Montana State lost to Montana, Sacramento would have taken Montana State's place in the tournament.
"The fact that it came down to how two other teams finished their season was the hardest part," Beal said. "It meant that no matter what we did, we could not control the outcome."
Head coach Ruben Volta said the season started with different, unsettled lineups and an injured senior, making it difficult to solidify a consistent game. However, Volta was overall happy with the strong finish.
"We were still really close. There were four five game matches (lost) and if we would've just won one of those, we could have been in the conference tournament," Volta said. "Everyone's pretty pleased with how we finished the year. We finished on our terms."
Multiple injuries early in the season were also tough for the team to deal with. Graduating senior outside hitter Jessie Genger was out for seven games for a foot injury. In addition, sophomore opposite hitter Kiley Mansfield suffered a knee injury, which ended her season.
In response, the Hornets had to pick up on their strengths as a team and continue to improve on those skills.
"We had a strong core of good attackers and that gave our setters a lot of options. When we were able to get our offense going, we made it really difficult on other teams," said outside hitter Janelle Currey, a senior mathematics major. "We also had a great blocking year, which allowed us to frustrate a lot of our opponents offensively."
As a graduating senior, Currey is in the process of applying for graduate programs in fall 2013. She is planning to earn a doctorate in math and become a teacher at the university level.
Currey said she hopes the team next season continues to put in hard work during practices that will show in their games.
"It is important to remember that the work you put in every day in practice is vital to success on the court. Practice is where you learn to work hard and to love the competitive grind," Currey said. "When you practice this way every single day, it makes it hard to do anything less when you get into a game situation. Love the grind."
Beal will be one of the players who will be continuing on to next season. This year she was named second all-Big Sky Conference team, averaging 3.46 kills and 1.21 blocks per set by the end of the regular season.
"To be named to the second team all-Big Sky Conference meant a lot to me. I worked hard this season to improve all aspects of my game," Beal said. "I could not have done it without my teammates. They are the reason that I wanted to improve my game."
Beal said next season they will need to work on becoming a team faster and work hard to compensate for the loss of the six graduating seniors.
Graduating senior Sydney Kordic, a communications studies major, also received honorable mention from the Big Sky Conference. She averaged .44 aces (ranked 16th in the nation) and 4.93 digs per set.
Currey placed in Sacramento State's personal top ten rankings. She ranked fourth in digs (1,662), fourth in attempts (5,029), seventh in kills (1,418), ninth in total points (1,657.5), tied for ninth in aces (127) and 10th in digs per set (3.35).
Maikalina Madali can be reached at [email protected]