Sushi restaurants near campus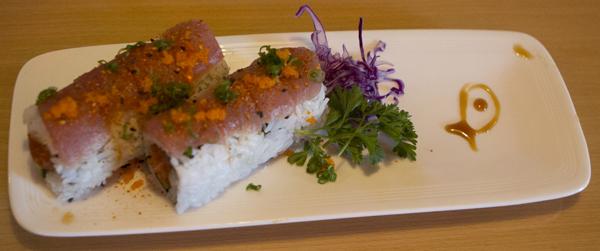 Camille Anglo and Kaitlin Bruce
November 7, 2012
Sushi is a dish some people grow to like as they become adults. Nothing says "I'm a grown up" like eating raw fish. To some people, eating sushi may seem icky, but to those who praise it find it to be a delightfully, acquired taste. The trick to finding good sushi depends on two things: a decent price and excellent sushi grade fish.
For Sacramento students, finding a sushi place with a decent price is easier than expected.
Arigato Sushi
Arigato on Howe Avenue is a great sushi restaurant for college students because of its low pricing, clubby atmosphere and great deals on drinks.
With over 100 rolls to choose from, there is a little something for everyone, such as cooked, non-fishy or more traditional rolls.
The 49er is a very popular roll, filled with cream cheese, tempura shrimp and cucumber, topped with salmon, sauce and a little lemon. The result is a creamy, tangy and crunchy bite – all the flavors you want in a solid sushi roll.
Another fun roll is the Super Mario, which is Arigato's take on the California roll. Underneath, it is a classic – imitation crab, avocado and cucumber – and on top, it's covered in mushrooms. Unfortunately, these mushrooms won't give you a one-up.
Hana Tsubaki
Hana Tsubaki is a small, charming restaurant with a traditional atmosphere and delicious Japanese cuisine. Located only 10 blocks away from Sacramento State, it is a must for students who are looking for more than just sushi rolls.
James Takashiba, the son of the owners of Hana Tsubaki, said the business' remains successful because it remains focused on serving: authentic Japanese cuisine.
"We've been open for 34 years, and our food is very traditional, homemade and fresh," Takashiba said.
Although the restaurant is on the pricier side and doesn't have the typical college fare, it is well worth it, especially after trying the high quality dishes. The $22 Chirashi Donburi is a bowl filled with sushi rice and topped with a variety of fresh cuts of sushi-grade fish including salmon, red tuna, yellowtail, octopus, spicy tuna and mackerel. It was a filling dish that had a lot of different flavors and textures.
Takashiba said popular non-sushi options include the Japanese Corndog, ($10), which is deep-fried salmon, cream cheese and jalapeños, as well as bento boxes ($13-$16) and udon soup.
The authentic vibe of the restaurant and wonderful cuisine is something to come back for. With so many tasty plates to choose from, it's hard not to.
Sushi Hook
Sushi Hook, located off of Howe Avenue, has half-priced rolls, but full-price taste. This little restaurant opened three years ago hoping to appeal to students, open seven days a week until midnight.
Soo Hwan Kim, the manager of the restaurant, ensures that all of his food is very high quality and always tasty.
"We don't cook our fish here, because ours is fresh, not frozen," said Kim. "We have food that is 50 percent off, but a lot of other places with that deal don't compare to ours. We're making full, quality-priced rolls here."
Hwan said student favorites include the Inferno, Red Dragon, and Sunrise roll for their spicy taste and crunchy texture. There is even the Sac State and Hornet roll for those die-hard Hornets out there.
For those who venture only to the fully cooked section of the menu, they also offer excellent dishes served with miso soup, salad and rice – all in heaping portions. Popular items include beef or chicken teriyaki, noodle or rice bowls, and tempura.
As well as delicious food, Sushi Hook has a good selection of Japanese alcohol, such as sake, wine, oyster or scallop shooters, and beer.
"(Our alcohol) is all very clean-tasting, and from Japan. My favorite beer is the Orion, from Okinawa," Hwan said.
After tasting rolls, nigiri and teriyaki, Sushi Hook got a thumbs up for its friendly service, quality fish and good prices – something you might not get at other half-off sushi restaurants.
Camille Anglo can be reached at [email protected] and Kaitlin Bruce can be reached at [email protected]