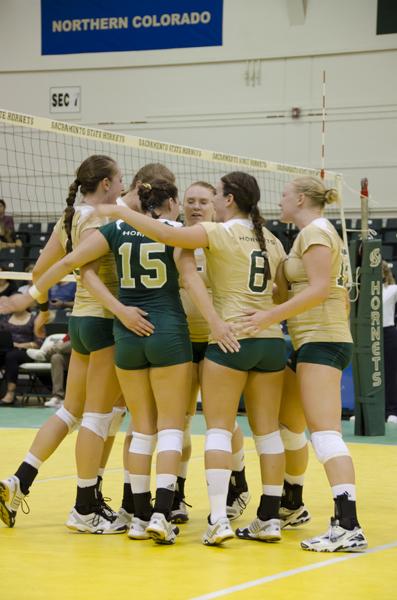 In Saturday's women's volleyball game against Montana, the Hornets played with heart and determination as they ended their regular season with a 3-2 game win.
It was a battle throughout all five sets. After losing the first set 25-20, the Hornets picked up two wins in the second (20-25) and third (10-25).
"We did a good job of not letting their kills or them scoring points bother us. We just focused on us," said outside hitter and co-captain Jessie Genger. "Senior night is really emotional, especially in the beginning when you're really excited to play. Once we settled down from that, we realized that Montana is not just going to roll over for us. We had to step out game up."
With those wins, Montana bounced back in the fourth set 25-23. Sac State made mistakes defensively, which allowed Montana's attacks to dominate.
The loss gave Sac State the motivation to push back. They were able to rack up a total of 68 kills, which Genger contributed 18, Janelle Currey had 13 and Kayla Beal with 20. Libero Sydney Kordic also picked up 28 digs.
"That's a good Montana team. They are aggressive, attack well and pass well," said head coach Ruben Volta. "We knew that coming in and we knew that it would be a tough match if we couldn't get them a little more out of system. I wasn't necessarily happy with how we played in games four and five."
Although the victory does not give them a guaranteed spot in the Big Sky Tournament, it does keep them in the running.
"We're excited. We thought a couple times that our shot was gone, that we weren't going to make the tournament," Currey said. "The fact that it's still a possibility is a great feeling. We don't have to be really sad right now cause we could have another game."
In order for them to have a chance to be in the tournament, they need Montana to take away a win in the game versus Montana State.
If that takes place, they will be in a three-way tie with Montana and Southern Utah. The determinant will be according to the record of each team.
"These last three weeks or so, we've played good volleyball," Currey said. "What we wanted more than anything was to play Sac State volleyball and to leave that before we (seniors) go."
Maikalina Madali can be reached at [email protected]