Men's basketball remains undefeated after a Pac-12 upset in Utah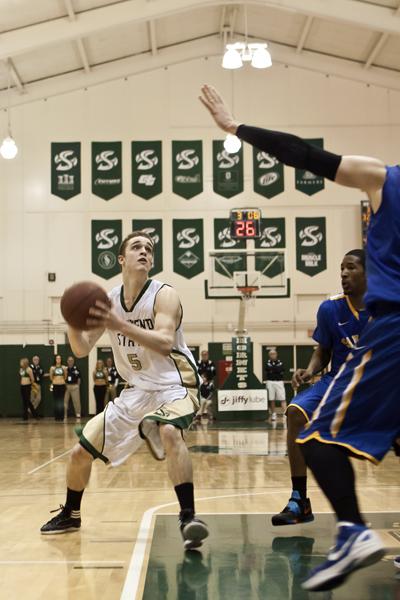 Another Sacramento State athletic program has shown it can hang with the big dogs of the Pac-12 after the Hornet men's basketball team knocked off Utah on the road tonight.
The Hornets trailed by as many as 13 points in the second half before clawing their way back into the contest and eventually taking down the Utes 74-71.
Sac State is off to its first 3-0 start in head coach Brian Katz's tenure and its best start in 13 seasons.
In the first half of the game, Utah clogged the lane to try and stop the aggressive Sac State offense. The Hornets were able to connect from long range on 3-point shots as well as from midrange. Although Sac State only shot 37 percent from the field, the team connected on 46 percent for beyond the arc in the half.
Sophomore guard Mikh McKinney remained in attack mode on the big stage even against a Utah team featuring a 7-footer.
"Coach told me that during my first two games I showed I could play a little so they would have to put their best defender on me," McKinney said. "I didn't want it to affect my game where I start forcing things. Since they put their best defender on me I just went to (my teammates)."
The Hornets were down at halftime, but they maintained their composure heading into a challenging second half.
Midway through the second, Utah took a commanding lead until a 3-ball by senior Joe Eberhard sparked a 15-6 run to bring the Hornets within four with 5:27 left in the game. Eberhard added 10 points and nine rebounds for Sac State.
Utah found itself over the foul limit late in the half and Sac State was able to do damage at the free throw line with the clock stopped. The Hornets made six of their 14 free throws in the final five minutes of the game including four from sophomore point guard Dylan Garrity.
Senior center Konner Veteto played strong all night against the massive size of the Utes' post defenders. He made a key defensive rebound with his team down by two and muscled through the defense to put it in the basket, which tied the game on the other end.
"Veteto was big-time for us down low." McKinney said. "We needed a big body (in the post). I felt like once he got in his groove he was able to move them out of the paint."
Veteto finished with eight points and three rebounds on only 22 minutes of action.
Utah was able to come back up by one after Veteto fouled Dallin Bachynski, who made a free throw to make the score 71-70 Utes with 1:29 on the clock.
Sac State struck back quickly with a jumper by Garrity to give the Hornets the lead with time winding down.
Garrity was on all night shooting 5-7 from the floor and hitting 100 percent on six free throws. He finished with a game-high of 19 points and a team-leading five assists.
Sac State tried to seal the win after Eberhard made two free throws, which extended the Hornet lead 74-71, but the Utes were not done yet.
Utah had a chance to tie, but McKinney blocked a 3-point shot from the Utes' Glen Dean with five seconds left in the game. Utah rebounded, but missed another 3-point shot as the buzzer sounded.
"It's a pleasure to play with a bunch of guys who are so close knit," McKinney said. "When we go to war, we are going hard and this game showed we are not backing down from anybody."
Even with the size difference, Sac State was able to outrebound Utah 38-34 including 13 offensive rebounds.
"We feel like we are the toughest team every time we step on the court," said senior forward John Dickson. "We've been getting up at 5:30 a.m. doing defensive drills since July. Nobody in the country has been putting in the work that we have."
The Hornets had four or more players score in double-figures for the third game in a row. In addition to Eberhard, McKinney and Garrity, Dickson put up 16 points and six rebounds.
On Tuesday, Sac State will face Causeway Cup rival UC Davis. Even with the big win, the Hornets plan to take care of business against the Aggies.
"It's good we beat a Pac-12 team, but it's not the end of the season," Dickson said. "When we go to Davis we have (to) play hard. We can't assume because we beat a Pac-12 school Davis is just going to bow down."
Joe Davis can be reached on twitter @famousjoe530.