Hornets fall short to UCSB men's soccer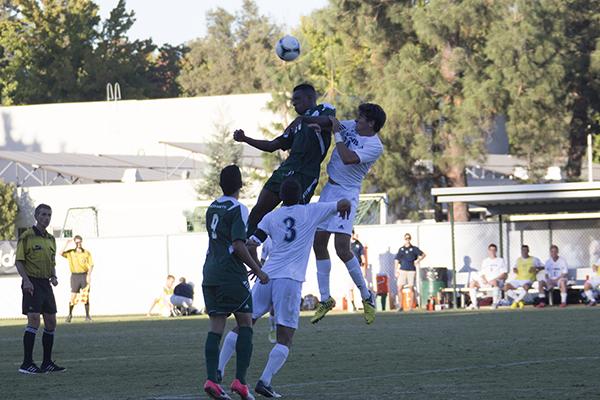 The Sacramento State men's soccer team suffered a 2-1 loss today to Big West Conference opponent UC Santa Barbara at Hornet Field.
The Hornets (8-7-2, 5-3-1 Big Sky) have lost three of their last four conference games. Two of those losses were at Hornet Field, where the Hornets have only lost five times in the last four seasons.
The Hornets were down early in the game in part to Matt Linenberger's red card in the 20th minute. Cesar Castillo of UC Santa Barbara then proceeded to score the first goal off of a free kick.
Hornet forward Chimdum Mez soon answered back in the 39th minute with his first career goal. Mez penetrated the Gauchos' defensive line and sent a shot past goalkeeper Austin Mansker to the far post, tying the game 1-1 going into halftime.
In the 54th minute, Gaucho Charlie Miller headed a crossing ball from Nic Ryan past Hornet goalkeeper Bryan Oliver for the lead of 2-1.
The Gauchos totaled 16 shots throughout the game compared to the Hornets' 12. Both teams had four corner kicks.
The Hornets and Gauchos also totaled 13 penalties each, including seven yellow cards and one red card.
Oliver was credited with four saves and Mansker was credited with five throughout the game.
The Hornets are currently tied with Cal Poly in the North Division with 16 points. The first place team, UC Davis, has 18 points. In order to advance to the Big West Tournament, the Hornets need to either earn the same or more points than Cal Poly. Only the top two teams from the North Division will advance to the Big West Tournament.
The Hornets' final conference game is Saturday at UC Davis. Cal Poly has a home game against UC Santa Barbara.
A win is worth three points, a tie is worth one point and a loss garners no points.
If Sac State and Cal Poly end up tied with points, the Hornets hold the tie-breaker due to their previous win over the Mustangs this season.
James Heck can be reached at [email protected]