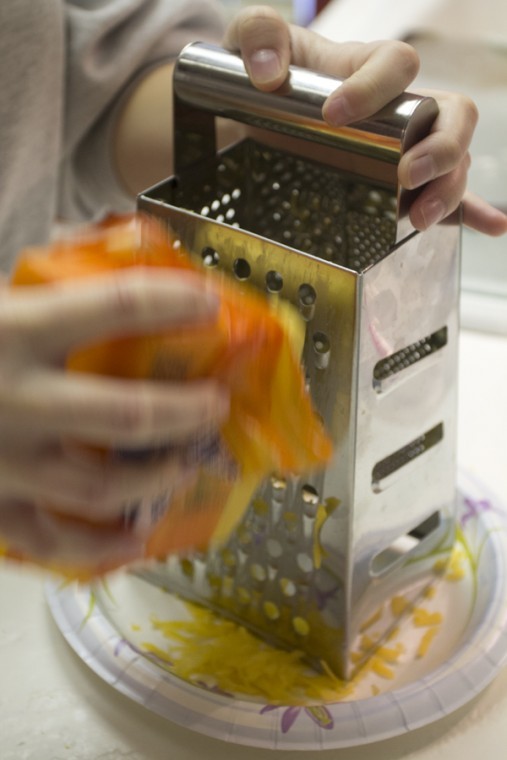 Thanksgiving is a time to celebrate – with food, of course. Now your first thoughts might be the turkey centerpiece, but let's not forget the scrumptious potatoes adorning the traditional bird in the middle of the table.
Mashed potatoes with melted butter have always been a favorite Thanksgiving dish in my family, but this year I am putting a new spin on potatoes by turning them into au gratin bites.
I am proud to say this is my first homemade concoction for Thanksgiving. My mom is constantly slaving away over the stove for the holidays, so I cannot wait to share this dish with my family this fall.
The term potatoes au gratin is widely used in North America, but it is also known as scalloped potatoes. Gratin is a cooking style that uses toppings such as cheese and bread crumbs, which are cooked to a golden brown color using a broiler.
I decided to make this treat with cheese because I love adding cheese to everything. Okay, not everything, but adding it to potatoes sounded delicious. You can also leave out the cheese if you want to cut calories. But it is Thanksgiving and calories don't matter much when you are ready to feast.
The preparation for this cheesy masterpiece is simple. With all of the other goods to prepare for the upcoming holidays, it is nice to have one that does not take much time.
The ingredients can be found in your local grocery store.
Cheesy Potatoes Au Gratin
4 russet potatoes, sliced
2 cups milk
3 tablespoons flour
2 cups shredded cheddar cheese
3 tablespoons butter
3 teaspoons garlic salt
6-inch-by-6-inch glass dish
Preheat oven to 400 F. Peel potatoes and slice into thin pieces half inch thick pieces Place potato slices in glass dish. After one layer of sliced potatoes are laid down, keep adding more layers until all of the slices have been used.
Melt butter in a medium saucepan. Add garlic salt, flour and milk. Add cheese all at once and stir until thick and cheese is melted.
Pour the cheese mixture over each potato set in glass dish. Place in oven for 1 hour and 30 minutes.
Remove from oven. They are ready to be served.
These creamy browned potatoes are sure to become a tradition at the Thanksgiving table.
Jacquelin Everhart can be reached at [email protected]