Running back trio set the tone for Sac State offense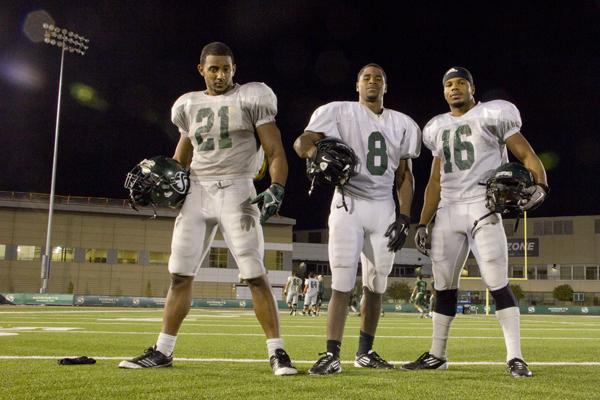 While Sacramento State head coach Marshall Sperbeck might not be a professional poker player, he certainly is holding a set of aces in the backfield.
The combination of running backs A.J. Ellis, Sam McCowan and Ezekiel Graham has rushed its way to the top of the Big Sky Conference.
This season the trio has rushed for 900 yards, which surpasses six Big Sky schools.
"I just feel they all have talent," Sperbeck said. "They all have different strengths that we can take advantage of."
Although Sperbeck will play his running backs in a variety of combinations, he usually sticks to a formula: Ellis is the power, Graham is the speed and McCowan does a little of everything.
Not only does Sperbeck alternate the running backs because of their strengths within his offensive strategy, but he said he also wants to keep his backfield well rested.
However if one plays well, the other two might have to wait on the sidelines.
"Coach just normally goes with the hot hand," Ellis said. "So if Sam is in there and he busts a 50-yard run, he is probably going to stay in."
Running back coach Aaron Ingram said it is hard to judge when to take a guy out.
"The tough part is you never know who is going to get that hot hand," Ingram said. "It is a different equation each week and it is tough for them because they have to perform fast to keep up."
This also creates competition among the backfield.
"It is a very competitive room right now," Ingram said. "They are competitive about who starts a period, who ends a period, who gets more carries in practice, who breaks us down after meetings. It is a real edgy room, but that is a good thing I think."
Sac State is not the first football team to use an ensemble of running backs.
Miami Dolphins' running backs Larry Csonka, Mercury Morris and Jim Kiick combined for a total of 11,385 yards and 90 touchdowns from 1970-74.
Ingram said that college football has changed and teams do not use one guy to carry the ball anymore.
"It is pretty rare nowadays to see anyone carrying the ball 25-30 times," Ingram said. "I think the last guys that did that were Ray Rice and Ron Dayne.
Sperbeck has used many players since his time coaching at Football College not only in the backfield but also on both sides of the ball.
Last season, he used the running back combination of McCowan, Bryan Hillard and Jake Croxdale and this season he has used eight defensive linemen and five to six receivers.
Whether it is Ellis powering up the middle, Graham using his speed, or McCowan dodging tackles, the competition will still go on for the rest of the season.
"We just have to get better each week," Ellis said. "We need to make sure we stay focused and stay hungry."
Ryan Kuhn can be reached at @rskuhn