Reesey Byers runs like the wind, leads cross country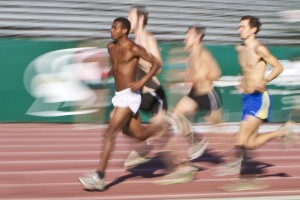 He humbly shook my hand the first time I met him. He seemed shy and reserved, probably nervous.
He tricked me.
When discussing his experiences running, junior Reesey Byers can hardly contain his enthusiasm.
Byers was born on March 3, 1992, in Bakersfield. When he was two years old, he was adopted by Mary Mike Byers and moved to Santa Rosa.
He was first introduced to running in elementary school, where he would race other children in "warm-up" laps at school.
A physical education teacher in middle school noticed Byers' speed and recommended he run track and field. In seventh grade, he ran track and competed in the mile.
"I tried it out and I loved it," Byers said. "I did not really know much about it my first couple of years. I pretty much showed up for practice and did what the coach said."
Byers continued his running at Santa Rosa High School, where he did not really hit his full stride until his junior and senior years, when colleges started taking notice.
During his senior year of high school, Byers finished ninth at the Division II state cross country championships with a time of 15:23 over the 5k Woodward Park course in Fresno.
"It opened my eyes to what I could do," Byers said.
After placing second in the 3k at the Stanford Invitational with a time of 8:19.81, Byers narrowed his choices down between UC Berkeley and Sacramento State.
"I liked the coaches and the team atmosphere a lot more," Byers said of Sac State. "I thought it would be a better fit for me and help me get to where I want to be."
In his first year at Sac State, Byers competed in every meet and led the team at the Big Sky Championships with a time of 23:15.09 over the 8k course – the eighth fastest in school history.
Byers ended his freshman campaign with a third-place finish on the team at the NCAA West Regional 10k course with a time of 32:18.09 – the ninth fastest in school history.
In his sophomore season, Byers competed in six meets during the regular season, but with a couple of close finishes, only led the team twice.
"I just was not really running anywhere near where I wanted," Byers said. "I was getting down on myself and kind of having a sophomore slump."
However, a strong effort at the NCAA West Regional cemented him into the record books.
Competing against a majority of Pac-12 Conference schools, Byers placed 50th overall in the 10k course with a time of 30:31. His place tied for the fifth-best in school history and his time was the fastest run by a Hornet at NCAA Regional.
"I like to just go out at a pace that feels right for me," Byers said. "I know once I can get into a good rhythm I am going to have a good race. Those are my best races where I don't think about anything."
When talking about running, Byers' voice contains an element of energy and excitement. It is no surprise he also enjoys skateboarding and gymnastics – skills he taught himself.
"I am always doing flips all over the place," Byers said. "I am a cautious thrill-seeker, if that makes sense."
But caution was a word Byers was too familiar with starting his junior season of cross country.
Byers deals with high blood pressure and in August had to get an electrocardiogram.
When the results came back abnormal, Byers was told he potentially had Brugada syndrome, a disorder of the heart that could cause sudden death.
"I was like, 'What? Oh my god. I could probably die right now,'" Byers said. "I was really depressed."
After several ultrasounds and follow-ups, Byers said the doctors determined his heart was healthy and he could continue running.
"Basically because I am a runner, it came out abnormal," Byers said. "They said I am in such good shape and my heart is healthy. That was all so stupid."
Despite the bizarre start to the 2012 season, Byers has emerged as the undeniable leader of the men's cross country team.
Byers has led the men's team in five of six races this season, finishing as high as first overall with a time of 19:42.3 over the four-mile course at the Hornet Jamboree and lowest at 33rd overall and third on the team at the Big Sky Conference Championships with a time of 26:45.6 over the 8k course.
Byers still has another year to compete for Sac State, but is looking forward to running competitively beyond his collegiate years.
For now, he continues what he has always loved to do – run.
"It might sound cheesy, but I feel free," Byers said. "I am in my own world and can control how fast I go. I can concentrate on something, or not think about anything."
James Heck can be reached at [email protected].