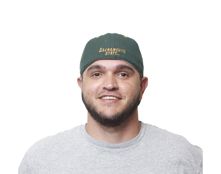 To the novice fan, building a powerhouse football program may seem simple. The thought is recruiters need to go out and get the best players in the country, hand out a scholarship and bang, Sacramento State national championships will come rolling in.
The truth is, it is not that easy. There are many factors recruiters at Sac State have to take into account before being able to bring a prospect into the Hornets' football program.
The recruiting process can be long and tricky at times. The recruiters, who also make up the coaching staff, have specific criteria for the types of players who would fit the Hornet scheme.
There are also NCAA guidelines and restrictions governing how the recruiting teams can operate. In addition, there is somewhat of a pecking order in college football when it comes bringing to players to Sac State.
Sac State recruits from a pool including all of of California except for the San Diego area. The proximity of a player's hometown allows for recruiters like Aaron Ingram to have more time to develop a relationship with a prospect over the duration of the recruiting process.
Sac State can begin recruiting a prospect during his junior season of high school. Players can send in game film or email coaches but NCAA regulations limit contact initiated by the football program. After Thanksgiving and continuing to February, recruiters are allowed to contact prospects once a week; over the entire process a player can be visited by staff three times in his or her home.
Recruiters like Ingram and Coach Daniel DePrato are able to scout players from tapes received through mail but the advancement of YouTube has opened up the accessibility of game film even more.
Once it is established that a player has the ability to play at the next level, Ingram and Deprato will contact a player's high school coaches and family to determine if there is a fit for Sac State and the prospect.
The Hornet recruiting team places a premium on academic standing and a prospect's ability to succeed in school at the top of criteria list for potential players.
"If we have two guys who are equally athletic and in character but one guy has better grades, then he will have an advantage," DePrato said. "It makes the process a little bit easier."
Deprato said identifying kids with good character, athletic ability and satisfactory grades is the easy part about recruiting, but how a player will adjust to change cannot be measured.
"There are guys that had great grades in high school but in college they struggle while players who maybe didn't do as well in high school excel at (Sac State)," Deprato said. "The hard part about recruiting is that you can't gauge the intangibles."
The so-called big time programs usually get first pick on prospects. For example, if Cal Berkeley takes a player Fresno State was scouting, Fresno State might in turn steal a guy Sac State has its eye on.
It is Ingram's job to find a good player with high character and potential for growth. There are a number of websites used by coaches that rank players using a 1-5 star system with five being the best, but not the Sac State staff.
"All those stars and all those rankings (come from) so many different companies that do it now," Ingram said. "We don't even care (how many) stars a player gets as long as he is a Sac State star."
Ingram said Sac State does not pay attention to the scouting websites because the criteria they use is unclear.
The key to nabbing the perfect player for a smaller program like Sac State is all in a recruiter's ability to see potential in a prospect no other school can see.
Ezekiel Graham is a player that was recruited out of L.A. Southwest Junior College before the start of the 2012 season. Graham was a wildcard that has paid off big for the Hornets this season.
Ingram said Graham could easily be playing at a larger program but was overlooked because he was considered a gamble academically. The risk of bringing in Graham has paid off as Sac State's structure has helped the Hornets' leading rusher excel in the classroom and on the field.
Recruiting requires many days on the road and the cost can add up.
Sac State athletic director Terry Wanless said the football program's recruiting budget is around $45,000 annually. The money may seem like a lot but when compared with the recruiting budget of a school like the University of Tennessee which spends $1.4 million annually, it is chump change.
Sac State funds 59.5 scholarships for the football team. The team counts on other sources like financial aid to help with reaching the allotted 63 scholarships authorized by the NCAA.
Unlike with the larger FBS schools, which have a limit of 85 whole scholarships they can offer, smaller FCS schools such as Sac State can divide the 63 scholarships amongst 85 players on the roster. Currently, 75 Sac State players receive full or partial scholarship.
No matter the dollar amount for cost of recruiting or scholarship allotments, the goal of Sac State football recruiters is to bring players in who can help win games. But more importantly they want to churn out quality student athletes.
"Each program decides how it will be run," Deprato said. "(At Sac State) we have decided to take direct involvement with our player's academics and I think that is what separates us from other programs. We use that as a tool in recruiting as we let kids know that they will meet with their position coach every other week to go over academic standing."
Joe Davis can be reached at [email protected]