Football leaves No. 1 Eastern Washington with a one-possession loss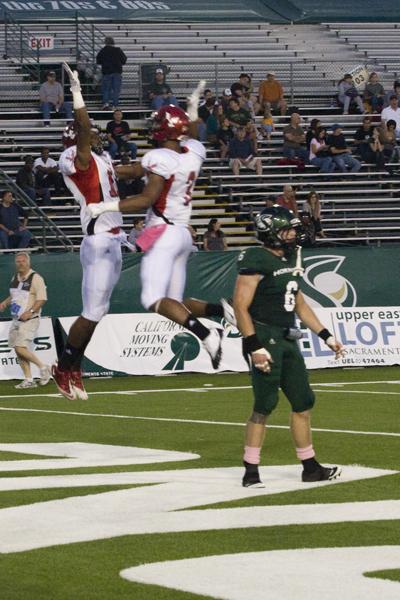 " class="catboxphoto" />
State Hornet Staff
October 20, 2012
Sacramento State was just one play away from having its prayers answered.
With no time remaining, Hornets quarterback Mason Magleby launched a Hail Mary toward the end zone, which fell incomplete.
Sac State would have knocked off the No. 1 team in the FCS if the pass had been successful, but instead left Eastern Washington University with a loss, 31-28.
"I'm very proud of the guys and the way they competed," said Hornets' head coach Marshall Sperbeck. "There just wasn't enough time left. If we would've had a couple more plays, I would've felt good about our chances."
Magleby replaced starting quarterback Garrett Safron with three minutes left in the fourth quarter, but completed the scoring drive three plays later after he threw a 6-yard pass to T.J. Knowles.
"It felt really good to be out there," Magleby said. "I have to prepare myself to be ready all the time if someone goes down. The only thing I can do is just give my team a chance to win."
This season, Magleby has taken a limited amount of snaps for the Hornets and attempted only 11 passes, but has thrown two touchdowns.
There is no information at this time about Safron's injury except it is to his hand.
The Eagles started the game with a 24-yard field goal to take the lead, but the Hornets responded.
Although Eastern Washington is first in the Big Sky Conference in scoring defense, the Eagles sit in the bottom half of the conference in defending the run.
Sac State's running back duo of Ezekiel Graham and De'jon Coleman took the Hornets on a 65-yard drive, which finished with a 1-yard run by Coleman and gave the Hornets the lead in the first quarter 7-3.
Eastern Washington displayed a pair of arms that threw for 342 yards. All season, the Eagles have used the combination of quarterbacks Vernon Adams and Kyle Padron.
Adams threw a pair of touchdown passes to wide receiver Greg Herd in both the second and third quarters. Padron threw a touchdown pass in the fourth quarter to his leading receiver Brandon Kaufman, 52-yards over the middle.
While Padron is more of a pocket passer, Adams showed his mobility as he led the Eagles with 38 yards rushing.
Although the Hornets returned home with a loss, Sac State linebacker Jeff Badger said he was happy with the way the team performed.
"It was a really tough game, but I think our team didn't quit at all," Badger said. "We are going to come out ready next week."
Next Saturday the Hornets welcome No. 14 Cal Poly, who comes in this season as the Big Sky's only undefeated school with eight straight wins dating back to last season.
Although Sperbeck has not defeated the Mustangs since he arrived at Sac State, he said his team will always compete hard for four quarters.
"Our team is not going to get down. That is one thing we have done all season and we will continue to do so during the next three weeks," Sperbeck said. "When you play Sac State, we are going to play hard."
Ryan Kuhn can be reached at @rskuhn