Community remembers Bloomfield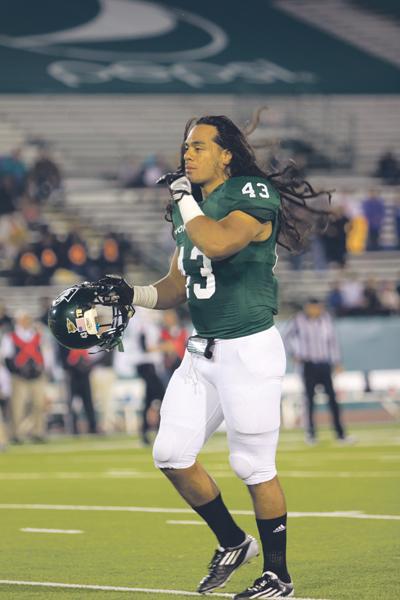 State Hornet Staff
October 24, 2012
The hall to the ICU at Mercy General Hospital was full with people lining the walls to give support to John Bloomfield.
Bloomfield died Sunday morning after being in a coma for weeks, but his impact on his family, friends and teammates will never be forgotten.
"Everyone who met John said there was something unique about him and he stood out from everyone else," said his sister, Mele.
After a Facebook page was created in his honor called #TeamWakeupJB, thousands of people "liked" the page and many others posted their condolences and prayers for the family.
Longtime friend Haley Fillmore started #TeamWakeupJB because she said she wanted to give back for all he has done.
"JB was big into helping people any way he could, so this was my way of telling people that even though he is gone, he is still with us," Fillmore said. "I wanted to keep his legacy because he was a big inspiration to many people, even though they didn't know him."
Friends and family of Bloomfield said he did not care much for social media, but in the end he made an impact whether it was on Twitter or Facebook.
"I couldn't believe someone actually made a page," Mele said. "It was amazing how someone who didn't use any social networks could impact social networking so much."
So far, the page has 1,435 likes and 25 posts plus comments. His story has even reached other countries.
"I never expected it to reach beyond his immediate family members," Fillmore said. "I get people messaging me on the page from Australia and New Zealand. He had family everywhere, reaching over every continent. It was set up for family, but his story broke out and was so inspirational to people. Everyone was touched."
Bloomfield grew up in East Palo Alto and from young age he found passion in Christian beliefs. Both his father and grandfather worked for the Tokaikolo Church, but East Palo Alto's environment was too much of a distraction, so they sent him to Oregon to live with his uncle for four years.
He returned to Sacramento to finish up high school and found a love for football in his senior season. Even from a young age, his father said he always made the big play.
"He was very quiet and calm, but in sports he hated to lose," said his father, Pulucila Bloomfield.
After playing two seasons at Sierra College, he decided to attend Sacramento State and play defensive end.
"Family was a big part of his decision to go to Sac State," Pulucila said. "He learned family values and John was excited to be the first in our family to go to a university."
During his time in a Hornets uniform, he became a leader on and off the field. Last season Bloomfield played every game and finished with 29 total tackles.
"He fit into the program perfectly because that's what the Hornet football program was all about," said Matt Agaiava, who played on the defensive line with Bloomfield last season. "Coach Sperbeck always taught everyone to carry yourself and it's not just your name, but when you go out there you are representing Sac State and your family. It ties in with the Polynesian culture."
Bloomfield was majoring in ethnic studies. His friends and family said he was always excited when he was learning about his culture.
"When I first met him, it was easy because we were both Polynesian and came from the same walk of life," Agaiava said. "Polynesians are taught to show respect no matter who the person is and you have to represent your family no matter where you go. Family came first to John. Everything he did represented his family."
This year, Bloomfield became a mentor to the younger players like freshman Edmund Fiamalo. From the first day of practice, Fiamalo referred to Bloomfield as his big brother and was always under his wing to make sure he was on track.
Although Bloomfield is not with his teammates on the field, members of the Hornet football family say that John is still with them. For the remainder of the season, his initials will be placed on each helmet.
"He was just so wise and it seemed like he was so much older than he was," said teammate Matt Lawrence. "Every single day we went out to practice and kneeled on the field, said a few prayers and would point up to the sky. I just knew he was one of those rare people that valued living each day."
"One of the last things he gave me was his practice jersey, so I just wore it every single practice the weeks he was in the coma."
Lawrence said he is going to keep the jersey because he wants to have something to remember his friend and teammate by.
John Bloomfield left an impression on his family, friends and teammates and those who knew him said they will never forget the type of person he became.
"When he left we cried, but at the end of the day we felt peace because he left us to be at a better place than we are now," his sister said. "He left behind a legacy that everyone will always remember."
Ryan Kuhn can be reached at @rskuhn